Guitarist #15 . . .
September 2016
Bonnie Raitt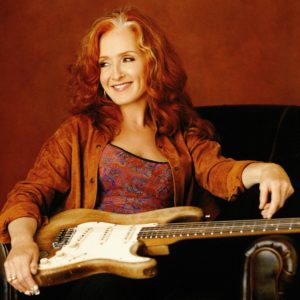 Synopsis
Bonnie Lynn Raitt (born November 8, 1949) is an American blues singer-songwriter, musician, and acitivist.
During the 1970s, Raitt released a series of roots-influenced albums which incorporated elements of blues, rock, folk and country. In 1989 after several years of critical acclaim but little commercial success she had a major return to public prominence with the release of her album Nick of Time. The following two albums Luck of the Draw (1991) and Longing in Their Hearts (1994) were also multi-million sellers generating several hit singles, including "Something to Talk About", "Love Sneakin' Up on You", and the ballad "I Can't Make You Love Me" (with Bruce Hornsby on piano).

Raitt has received 10 Grammy Awards. She is listed as number 50 in Rolling Stone magazine's list of the 100 Greatest Singers of All Time and number 89 on their list of the 100 Greatest Guitarists of All Time.
Early life
Raitt was born in Burbank, California. She is the daughter of Broadway musical star John Raitt and his first wife, pianist Marjorie Haydock, and was raised in the Quaker tradition. She began playing guitar at an early age. Later she gained notice for her bottleneck-style guitar playing. Raitt says she played "a little at school and at [a summer] camp" called Camp Regis-Applejack in New York.

After graduating from Oakwood Friends School in Poughkeepsie, New York, in 1967 Raitt entered Radcliffe College majoring in social relations and African Studies. Raitt said her "plan was to travel to Tanzania, where President Julius Nyerere was creating a government based on democracy and socialism".Raitt became friends with blues promoter Dick Waterman. During her second year Raitt took a semester off and moved to Philadelphia with Waterman and a number of local musicians. Raitt says it was an "opportunity that changed everything."
Career
1970–76
In the fall of 1970, while opening for Mississippi Fred McDowell at the Gaslight Cafe in New York, she was seen by a reporter from Newsweek Magazine, who began to spread word of her performance. Scouts from major record companies were soon attending her shows to watch her play. She eventually accepted an offer with Warner Bros. who soon released her debut album, Bonnie Raitt, in 1971. The album was warmly received by the music press, many of whom praised her skills as an interpreter and as a bottleneck guitarist; at the time, very few women in popular music had strong reputations as guitarists.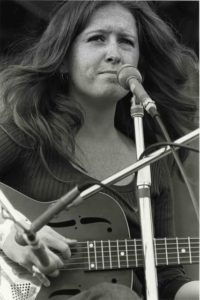 Bonnie, early in her career
While admired by those who saw her perform, and respected by her peers, Raitt gained little public acclaim for her work. Her critical stature continued to grow but record sales remained modest. Her second album, Give It Up, was released in 1972 to universal acclaim; though many critics still regard it as her best work, it did not change her commercial fortunes. 1973's Takin' My Time was also met with critical acclaim, but these notices were not matched by the sales.
Raitt was beginning to receive greater press coverage, including a 1975 cover story for Rolling Stone Magazine, but with 1974's Streetlights, reviews for her work were becoming increasingly mixed. By now, Raitt was already experimenting with different producers and different styles, and she began to adopt a more mainstream sound that continued through 1975's Home Plate.
In 1976, Raitt made an appearance on Warren Zevon's eponymous album with his friend Jackson Browne and Fleetwood Mac's Lindsey Buckingham and Stevie Nicks.
1977–88
1977's Sweet Forgiveness album gave Raitt her first commercial breakthrough when it yielded a hit single in her cover of "Runaway." Recast as a heavy rhythm and blues recording based on a rhythmic groove inspired by Al Green, Raitt's version of "Runaway" was disparaged by many critics. However, the song's commercial success prompted a bidding war for Raitt between Warner Bros. and Columbia Records. "There was this big Columbia–Warner war going on at the time", recalled Raitt in a 1990 interview. "James Taylor had just left Warner Bros. and made a big album for Columbia…And then, Warner signed Paul Simon away from Columbia, and they didn't want me to have a hit record for Columbia – no matter what! So, I renegotiated my contract, and they basically matched Columbia's offer. Frankly the deal was a really big deal."

Warner Brothers held higher expectations for Raitt's next album, The Glow, in 1979, but it was released to poor reviews as well as modest sales. Raitt would have one commercial success in 1979 when she helped organize the five Musicians United for Safe Energy (MUSE) concerts at Madison Square Garden in New York City. The shows spawned the three-record gold album No Nukes, as well as a Warner Brothers feature film of the same name. The shows featured co-founders Jackson Browne, Graham Nash, John Hall, and Raitt as well as Bruce Springsteen, Tom Petty and the Heartbreakers, the Doobie Brothers, Carly Simon, James Taylor, Gil Scott-Heron, and numerous others.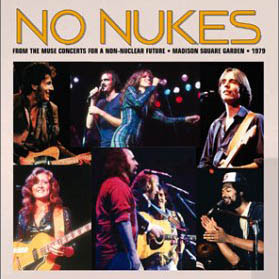 For her next record, 1982's Green Light, Raitt made a conscious attempt to revisit the sound of her earlier records. However, to her surprise, many of her peers and the media compared her new sound to the burgeoning new wave movement. The album received her strongest reviews in years, but her sales did not improve and this would have a severe impact on her relationship with Warner Brothers.
Drop from Warner Brothers
In 1983, as Raitt was finishing work on her follow-up album, entitled Tongue & Groove, Warner Brothers "cleaned house", dropping a number of major artists such as Van Morrison and Arlo Guthrie from their roster. The day after mastering was completed on Tongue & Groove, the record label dropped Raitt also. The album was shelved indefinitely, and Raitt was left without a record label. By then, Raitt was also struggling with alcohol and drug abuse problems.

Despite her personal and professional problems, Raitt continued to tour and participate in political activism. In 1985, she sang and appeared in the video of "Sun City", the anti-apartheid record written and produced by guitarist Steven Van Zandt. Along with her participation in Farm Aid and Amnesty International concerts, Raitt traveled to Moscow in 1987 to participate in the first joint Soviet/American Peace Concert, later shown on the Showtime television network. Also in 1987, Raitt organized a benefit in Los Angeles for Countdown '87 to Stop Contra Aid. The benefit featured herself along with musicians Don Henley, Herbie Hancock, Holly Near and others.
Tongue and Groove's name change and release
Two years after dropping her from their label, Warner Brothers notified Raitt of their plans to release Tongue & Groove. "I said it wasn't really fair," recalled Raitt. "I think at this point they felt kind of bad. I mean, I was out there touring on my savings to keep my name up, and my ability to draw was less and less. So they agreed to let me go in and recut half of it, and that's when it came out as Nine Lives." A critical and commercial disappointment, 1986's Nine Lives would be Raitt's last new recording for Warner Brothers.

In late 1987, Raitt joined singers k.d. lang and Jennifer Warnes as female background vocalists for Roy Orbison's television special, Roy Orbison and Friends, A Black and White Night. Following this highly acclaimed broadcast, Raitt began working on new material. By then, she was clean and sober, having resolved her substance abuse problem. She later credited Stevie Ray Vaughan for his help in a Minnesota State Fair concert the night after Vaughan's 1990 death. During this time, Raitt considered signing with the Prince-owned Paisley Park label, but negotiations ultimately fell through. Instead she began recording a bluesy mix of pop and rock under the production guidance of Don Was at Capitol Records.

Raitt had met Was through Hal Wilner, who was putting together Stay Awake, a tribute album to Disney music for A&M. Was and Wilner both wanted Raitt to sing lead on an adult-contemporary arrangement created by Was for "Baby Mine", the lullaby from Dumbo. Raitt was very pleased with the sessions, and she asked Was to produce her next album.
1989–99: Commercial breakthrough
After working with Was on the Stay Awake album, Raitt's management, Gold Mountain, approached numerous labels about a new record deal, and she was signed to Capitol by A&R executive Tim Devine. At Capitol, after nearly 20 years, Raitt achieved belated commercial success with her tenth album, Nick of Time. Released in the spring of 1989, Nick of Time went to the top of the U.S. charts following Raitt's Grammy sweep in early 1990. This album has been voted number 230 in the Rolling Stone magazine list of 500 Greatest Albums of All Time. Raitt herself pointed out that her 10th try was "my first sober album."

At the same time, Raitt received a fourth Grammy Award for her duet "In the Mood" with John Lee Hooker on his album The Healer. Nick of Time was also the first of many of her recordings to feature her longtime rhythm section of Ricky Fataar and James "Hutch" Hutchinson (Although previously Fataar had played on her Green Light album and Hutchinson had worked on Nine Lives). Nick of Time has sold over six million copies in the US alone.

Raitt followed up this success with three more Grammy Awards for her 1991 album Luck of the Draw which sold nearly 8 million copies in the United States. Three years later, in 1994, she added two more Grammys with her album Longing in Their Hearts, her second no. 1 album. Both of these albums were multi-platinum successes. Raitt's collaboration with Was would amicably come to an end with 1995's live release, Road Tested. Released to solid reviews, it sold well enough to be certified gold.

"Rock Steady" was a hit written by Bryan Adams and Gretchen Peters in 1995. The song was written as a duet with Bryan Adams and Bonnie Raitt for her Road Tested tour, which also became one of her albums. The original demo version of the song appears on Adams' 1996 single "Let's Make a Night to Remember".

For her next studio album, Raitt hired Mitchell Froom and Tchad Blake as her producers. "I loved working with Don Was but I wanted to give myself and my fans a stretch and do something different," Raitt said. Her work with Froom and Blake was released on Fundamental in 1998.
2000–2007
In March 2000, Raitt was inducted into the Rock and Roll Hall of Fame in Cleveland, Ohio.

Silver Lining was released in 2002. In the US, it reached 13 on the Billboard chart and was later certified Gold. It contains the 3 singles "I Can't Help You Now", "Time of Our Lives" and the title track. All 3 singles charted within the top 40 of the US A/C chart.

In 2003 Capitol Records released the compilation album The Best of Bonnie Raitt. It contains songs from her prior Capitol albums from 1989 – 2002 including Nick of Time, Luck of the Draw, Longing in Their Hearts, Road Tested, Fundamental, and Silver Lining.

Souls Alike followed and was released in September 2005. In the US, it reached the top 20 on the Billboard chart. It contains the singles "I Will Not Be Broken" and "I Don't Want Anything to Change", which both charted in the top 40 of the US A/C chart.

In 2006 she released the live DVD/CD Bonnie Raitt and Friends, which was filmed as part of the critically acclaimed VH1 Classic Decades Rock Live Concert Series, featuring special guests Keb Mo', Alison Krauss, Ben Harper, Jon Cleary and Norah Jones. The DVD was released by Capitol Records on August 15. Bonnie Raitt and Friends, which was recorded live at the Trump Taj Mahal in Atlantic City, NJ on September 30, 2005, features never-before-seen performance and interview footage, including four duets not included in the VH1 Classic broadcast of the concert. With two hours of concert and interview footage, the concert which was filmed in Hi-Definition and is presented in 5.1 audio, features Raitt performing 17 songs with her longtime band – George Marinelli (guitar), James "Hutch" Hutchinson (bass), Ricky Fataar (drums) and Jon Cleary (keyboards). Included are such classic Raitt hits as "Something To Talk About," "Love Letter" (with Mo'), "You" (with Krauss) and a knock-out encore of "Love Sneakin' Up on You" with Raitt, Jones, Harper, Krauss and Mo' as well as highlights from her latest studio album, Souls Alike, including "I Will Not Be Broken," "God Was in the Water", "I Don't Want Anything To Change" (with Jones) and "Unnecessarily Mercenary" (a duet with keyboardist Cleary, who wrote the song). The accompanying CD features 11 tracks, including the radio single "Two Lights in the Nighttime" (featuring Ben Harper). The Bonnie Raitt and Friends TV Special and DVD/CD was produced by Barry Summers of World Productions and Rock Fuel Media.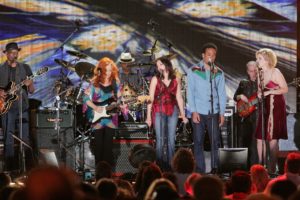 Bonnie Raitt & Friends
Australian Country Music Artist Graeme Connors has said, "Bonnie Raitt does something with a lyric no one else can do; she bends it and twists it right into your heart." (ABC Radio NSW Australia interview with Interviewer Chris Coleman on January 18, 2007)
In 2007, Raitt contributed to Goin' Home: A Tribute to Fats Domino. With Jon Cleary, she sang a medley of "I'm in Love Again" and "All by Myself" by Fats Domino.
2008–present
Raitt appeared on the June 7, 2008, broadcast of Garrison Keillor's radio program A Prairie Home Companion. She performed two blues songs with Kevin "Keb' Mo'" Moore: "No Getting Over You" and "There Ain't Nothin' in Ramblin'". Raitt also sang "Dimming of the Day" with Richard Thompson. This show, along with another one with Raitt and her band in October 2006, is archived on the Prairie Home Companion website.

In April 2011, the Bonnie Raitt and Friends DVD officially became RIAA certified gold.

In February 2012, Raitt performed a duet with Alicia Keys at the 54th Grammy Awards in 2012 honouring Etta James.

In April 2012, Raitt released her first studio album since 2005, entitled Slipstream. It charted at Number 6 on the US Billboard 200 chart marking her first top ten album since 1994's Longing in Their Hearts. The album was described as "one of the best of her 40-year career" by American Songwriter magazine.

In September 2012, Raitt was featured in a campaign called "30 Songs / 30 Days" to support Half the Sky: Turning Oppression into Opportunity for Women Worldwide, a multi-platform media project inspired by a project outlined in a book by Nicholas Kristof and Sheryl WuDunn. In 2013, she appeared on Foy Vance's album Joy of Nothing
Raitt is listed at Number 50 in Rolling Stone magazine's list of the 100 Greatest Singers of All Time. She is also listed at number 89 in the Rolling Stone list of the 100 Greatest Guitarists of All Time.

In February 2016, Raitt released her seventeenth studio album Dig in Deep. The album charted at number 11 on the US Billboard 200 chart[15] and received favorable reviews. The album features the single "Gypsy in Me" as well as a cover of the INXS song "Need You Tonight"
Drug and alcohol use, and recovery
Raitt used alcohol and drugs, but began psychotherapy and joined Alcoholics Anonymous in the late 1980s. She has said "I thought I had to live that partying lifestyle in order to be authentic, but in fact if you keep it up too long, all you're going to be is sloppy or dead". She became clean in 1987. She has credited Stevie Ray Vaughan for breaking her substance abuse, saying that what gave her the courage to admit her alcohol problem and stop drinking was seeing that Stevie Ray Vaughan was an even better musician when sober. She has also said that she stopped because she realized that the "late night life" was not working for her. In 1989 she said "I really feel like some angels have been carrying me around. I just have more focus and more discipline, and consequently more self-respect."
Personal life
Raitt has taken sabbaticals, including after the deaths of her parents, brother and best friend. She has said "When I went through a lot of loss, I took a hiatus."

Raitt and actor Michael O'Keefe were married on April 27, 1991. They announced their divorce on November 9, 1999 with a causal factor appearing to be that their careers caused considerable time apart.
Political activism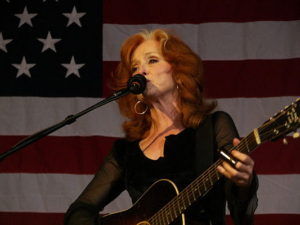 Political campaigning
Raitt's political involvement goes back to the early 1970s. Her 1972 album Give It Up had a dedication "to the people of North Vietnam …" printed on the back.

Raitt's web site urges fans to learn more about preserving the environment. She was a founding member of Musicians United for Safe Energy in 1979 and a catalyst for the larger anti-nuclear movement, becoming involved with groups like the Abalone Alliance and Alliance for Survival.

In 1994 at the urging of writer Dick Waterman, Raitt funded the replacement of a headstone for one of her mentors, blues guitarist Fred McDowell through the Mt. Zion Memorial Fund. Raitt later financed memorial headstones in Mississippi for musicians Memphis Minnie, Sam Chatmon, and Tommy Johnson again with the Mt. Zion Memorial Fund.

At the Stockholm Jazz Festival in July 2004, Raitt dedicated a classic to sitting (and later re-elected) U.S. President George W. Bush. She was quoted as saying, "We're gonna sing this for George Bush because he's out of here, people!" before she launched into the opening licks of "Your Good Thing (Is About to End)", a cover that was featured on her 1979 album The Glow. In 2002, Raitt signed on as an official supporter of Little Kids Rock, a nonprofit organization that provides free musical instruments and free lessons to children in public schools throughout the U.S.A. She has visited children in the program and sits on the organization's board of directors as an honorary member.

In 2008, Raitt donated a song to the Aid Still Required's CD to assist with relief efforts in Southeast Asia from the 2004 tsunami.

Raitt worked with Reverb, a non-profit environmental organization, for her 2005 fall/winter and 2006 spring/summer/fall tours.

Raitt is part of the No Nukes group, which opposes the expansion of nuclear power. In 2007, No Nukes recorded a music video of a new version of the Buffalo Springfield song "For What It's Worth".

During the 2008 Democratic primary campaign Raitt, along with Jackson Browne and bassist James "Hutch" Hutchinson, performed at campaign appearances for candidate John Edwards.
References
Wikipedia – en.wikipedia.org/wiki/Bonnie_Raitt

Videos – www.youtube.com

Images – https://downatthecrossroads.files.wordpress.com https://s-media-cache-ak0.pinimg.com http://rockfuelmedia.com https://upload.wikimedia.org http://4.bp.blogspot.com
---
Guitarist #14 . . .
August 2016
Bert Jansch
Synopsis
Herbert "Bert" Jansch (3 November 1943 – 5 October 2011) was a Scottish folk musician and founding member of the band Pentangle. He was born in Glasgow and came to prominence in London in the 1960s, as an acoustic guitarist, as well as a singer-songwriter. He recorded at least 25 albums and toured extensively from the 1960s to the 21st century.

Jansch was a leading figure in the British folk music revival of the 1960s, touring folk clubs and recording several solo albums, as well as collaborating with other musicians such as John Renbourn and Anne Briggs. In 1968, he co-founded the band Pentangle, touring and recording with them until their break-up in 1972. He then took a few years' break from music, returning in the late 1970s to work on a series of projects with other musicians. He joined a reformed Pentangle in the early 1980s and remained with them as they evolved through various changes of personnel until 1995. Until his death, Jansch continued to work as a solo artist.

Jansch's work influenced such artists as Al Stewart, Paul Simon, Johnny Marr, Elton John, Ian Anderson, Bernie Taupin, Bernard Butler, Jimmy Page, Nick Drake, Graham Coxon, Donovan, Neil Young, Fleet Foxes, Devendra Banhart, Neil Halstead, and Roy Harper.

Jansch received two Lifetime Achievement Awards at the BBC Folk Awards: one, in 2001, for his solo achievements and the other, in 2007, as a member of Pentangle.
Early years
Herbert Jansch was born at Stobhill Hospital in the Springburn district of Glasgow, in 1943, the descendant of a family originally from Hamburg, Germany, who settled in Scotland during the Victorian era. The family name is pronounced "yansh" by almost everyone except Jansch himself. He and some close members of his family pronounce it "jansh".

Jansch was brought up in the residential area of Edinburgh known as West Pilton, where he attended Pennywell Primary School and Ainslie Park Secondary School. As a teenager, he acquired a guitar and started visiting a local folk club ("The Howff") run by Roy Guest. There, he met Archie Fisher and Jill Doyle (Davey Graham's half-sister), who introduced him to the music of Big Bill Broonzy, Pete Seeger, Brownie McGhee and Woody Guthrie. He also met and shared a flat with Robin Williamson, who remained a friend when Jansch later moved to London.

After leaving school, Jansch took a job as a nurseryman then, in August 1960, he gave this up, intending to become a full-time musician. He appointed himself as an unofficial caretaker at The Howff and, as well as sleeping there, he may have received some pay to supplement his income as a novice performer who did not own his own guitar. He spent the next two years playing one-night stands in British folk clubs. This was a musical apprenticeship that exposed him to a range of influences, including Martin Carthy and Ian Campbell, but especially Anne Briggs, from whom he learned some of the songs (such as "Blackwaterside" and "Reynardine") that would later feature strongly in his recording career.

Between 1963 and 1965, Jansch travelled around Europe and beyond, hitch-hiking from place to place and living on earnings from busking and casual musical performances in bars and cafes. Before leaving Glasgow, he married a 16-year-old girl, Lynda Campbell. It was a marriage of convenience which allowed her to travel with him as she was too young to have her own passport. They split up after a few months and Jansch was eventually repatriated to Britain after catching dysentery in Tangiers.
London (mid-1960s)
The young Bert Jansch
Jansch moved to London where, in the mid-1960s, there was a burgeoning interest in folk music. There, he met the engineer and producer Bill Leader, at whose home they made a recording of Jansch's music on a reel-to-reel tape recorder. Leader sold the tape for £100 to Transatlantic Records, who produced an album directly from it. The album Bert Jansch was released in 1965 and went on to sell 150,000 copies. It included Jansch's protest song "Do You Hear Me Now" which was brought to the attention of the pop music mainstream later that year by the singer Donovan, who covered it on his Universal Soldier EP, which reached No. 1 in the UK EP chart and No. 27 in the singles chart. Also included in Jansch's first album was his song "Needle of Death", a stark anti-drugs lament written after a friend died of a heroin overdose.
Needle of Death

In his early career, Jansch was sometimes characterized as a British Bob Dylan. During this period, Jansch described his musical influences as "the only three people that I've ever copied were Big Bill Broonzy, Davy Graham and Archie Fisher". Jansch followed his first album with two more, produced in quick succession: It Don't Bother Me and Jack Orion—which contained his first recording of "Blackwaterside", later to be taken up by Jimmy Page and recorded by Led Zeppelin as "Black Mountain Side". Jansch said: "The accompaniment was nicked by a well-known member of one of the most famous rock bands, who used it, unchanged, on one of their records." Transatlantic took legal advice about the alleged copyright infringement and were advised that there was "a distinct possibility that Bert might win an action against Page". Ultimately, Transatlantic were dubious about the costs involved in taking on Led Zeppelin in the courts, and half the costs would have had to be paid by Jansch personally, which he simply could not afford, so the case was never pursued. The arrangement and recording of Jack Orion was greatly influenced by Jansch's friend, singer Anne Briggs.

In London, Jansch met up with other innovative acoustic guitar players, including John Renbourn (with whom he shared a flat in Kilburn), Davey Graham, Wizz Jones, Roy Harper and Paul Simon. They would all meet and play in various London music clubs, including the Troubadour in Old Brompton Road, and Les Cousins club in Greek Street, Soho. Renbourn and Jansch frequently played together, developing their own intricate interplay between the two guitars, often referred to as 'Folk baroque'.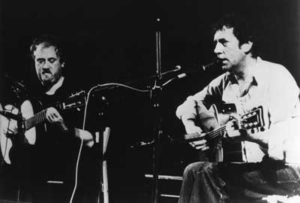 Bert with John Renbourn
In 1966, they recorded the Bert and John album together, featuring much of this material. Late in 1967 they tired of the all-nighters at Les Cousins and became the resident musicians at a music venue set up by Bruce Dunnet, a Scottish entrepreneur, at the Horseshoe pub (now defunct), at 264–267 Tottenham Court Road. This became the haunt of a number of musicians, including the singer Sandy Denny. Another singer, Jacqui McShee, began performing with the two guitarists and, with the addition of Danny Thompson (string bass) and Terry Cox (drums), they formed the group, Pentangle. The venue evolved into a jazz club, but by then the group had moved on.
On 19 October 1968, Jansch married Heather Sewell. At the time, she was an art student and had been the girlfriend of Roy Harper. She inspired several of Jansch's songs and instrumentals: the most obvious is "Miss Heather Rosemary Sewell", from his 1968 album Birthday Blues, but Jansch says that, despite the name, "M'Lady Nancy" (from the 1971 Rosemary Lane album) was also written for her. As Heather Jansch she has become a well-known sculptor.
Pentangle years: 1968–73
Pentangle (Bert playing banjo on right)
Pentangle's first major concert was at the Royal Festival Hall in 1967, and their first album was released in the following year. Pentangle embarked on a demanding schedule of touring the world and recording and, during this period, Jansch largely gave up solo performances. He did, however, continue to record, releasing Rosemary Lane in 1971. The tracks for this album were recorded on a portable tape recorder by Bill Leader at Jansch's cottage in Ticehurst, Sussex—a process which took several months, with Jansch only working when he was in the right mood.

Pentangle reached their highest point of commercial success with the release of their Basket of Light album in 1969. The single, Light Flight, taken from the album became popular through its use as theme music for a TV drama series Take Three Girls for which the band also provided incidental music. In 1970, at the peak of their popularity, they recorded a soundtrack for the film Tam Lin, made at least 12 television appearances, and undertook tours of the UK (including the Isle of Wight Festival) and America (including a concert at the Carnegie Hall). However, their fourth album, Cruel Sister, released in October 1970, was a commercial disaster. This was an album of traditional songs that included a 20-minute long version of Jack Orion, a song that Jansch and Renbourn had recorded previously as a duo on Jansch's Jack Orion album.


Pentangle recorded two further albums, but the strains of touring and of working together as a band were taking their toll. Then Pentangle withdrew from their record company, Transatlantic, in a bitter dispute regarding royalties. The final album of the original incarnation of Pentangle was Solomon's Seal released by Warner Brothers/Reprise in 1972. Colin Harper describes it as "a record of people's weariness, but also the product of a unit whose members were still among the best players, writers and musical interpreters of their day". Pentangle split up in January 1973, and Jansch and his wife bought a farm near Lampeter, in Wales, and withdrew temporarily from the concert circuit.
Late 1970s
After two years as a farmer, Jansch left his wife and family and returned to music (although Jansch and his wife would not be formally divorced until 1988). In 1977, he recorded the album A Rare Conundrum with a new set of musicians: Mike Piggott, Rod Clements and Pick Withers. He then formed the band Conundrum with the addition of Martin Jenkins (violin) and Nigel Smith (bass). They spent six months touring Australia, Japan and the United States. With the end of the tour, Conundrum parted company and Jansch spent six months in the United States, where he recorded the Heartbreak album with Albert Lee.

Jansch toured Scandinavia, working as a duo with Martin Jenkins and, based on ideas they developed, recorded the Avocet album (initially released in Denmark). Jansch rates this as amongst his own favourites from his own recordings. On returning to England, he set up Bert Jansch's Guitar Shop at 220, New King's Road, Fulham. The shop specialised in hand-built acoustic guitars but was not a commercial success and closed after two years.
1980s
In 1980, an Italian promoter encouraged the original Pentangle to reform for a tour and a new album. The reunion started badly, with Terry Cox being injured in a car accident, resulting in the band's debuting at the Cambridge Folk Festival as a four-piece Pentangle. They managed to complete a tour of Italy (with Cox in a wheelchair) and Australia, before Renbourn left the band in 1983. There then followed a series of personnel changes, including Mike Piggott replacing John Renbourn from 1983 to 1987 and recording Open the Door and In the Round, but ultimately leaving Jansch and McShee as the only original members. The final incarnation consisting of Jansch, McShee, Nigel Portman Smith (keyboards), Peter Kirtley (guitar and vocals) and Gerry Conway (drums) survived from 1987 to 1995 and recorded three albums: Think of Tomorrow, One More Road and Live 1994. As a solo artist in the mid-1980s, he often appeared on Vivian Stanshall and Ki Longfellow-Stanshall's showboat, the Old Profanity Showboat, in Bristol's Floating Harbour.

In 1985 two intriguely enigmatic limited edition albums appeared issued under the name of Loren Auerbach, who was to become his wife. 'After The Long Night' was released in February 1985 with the second, 'Playing The Game' appearing in October. Bert Jansch was guest player initially and also became a writer on some of the songs, arranger and co-vocalist. Richard Newman was the primary guitarist and songwriter. Loren Auerbach had worked alongside Richard Newman for many years prior to meeting Bert Jansch. Newman and Jansch were the key players on 'After The Long night'. On 'Playing The Game' Jansch and Newman were joined with Cliff Aungier, Geoff Bradford (lead guitarist from Cyril Davis' All Stars, Long John Baldry's Hoochie Coochie Men and the first line-up of The Rolling stones) and Brian Knight (British blues veteran of the Blues By six). The two albums became one – 'After The Long Night / Playing The Game'. Bert Jansch played guitar with Richard Newman on the following Newman songs: I Can't Go Back; Smiling Faces; Playing The Game; Sorrow; Days and Nights; The Rainbow Man; Frozen Beauty; Christabel; So Lonely; The Miller. All songs were sung by Auerbach with the exception of 'The Miller' that was sung by Newman. Bert married Loren Auerbach in 1999.

He had always been a heavy drinker, but in 1987 he fell ill while working with Rod Clements and Marty Craggs, and was rushed to hospital, where he was told that he was "as seriously ill as you can be without dying" and that he had a choice of "giving up alcohol or simply giving up". He chose the former option: Colin Harper states that "There can be no doubt that Bert's creativity, reliability, energy, commitment and quality of performance were all rescued dramatically by the decision to quit boozing". Jansch and Clements continued the work they had started before Jansch's illness, resulting in the 1988 Leather Launderette album.
Final years and death: 1992–2011
Bert was the prime mover in the Acoustic Routes film, first broadcast by the BBC in 1992. It shows him revisiting his old haunts and reminiscing with guests such as Al Stewart, Anne Briggs, John Renbourn, and Davey Graham.

From 1995, Jansch appeared frequently at the 12 Bar Club in Denmark Street, London. One of his live sets there was recorded direct to Digital Audio Tape (DAT) by Jansch's then manager, Alan King, and was released as the Live at the 12 Bar: an official bootleg album in 1996. In 2002 Jansch, Bernard Butler and Johnny "Guitar" Hodge performed live together at the Jazz Cafe, London. Bernard Butler had also appeared on Bert's 2002 album Edge of a Dream featuring, amongst others, Ralph McTell and guitarist Paul Wassif. The instrumental "Black Cat Blues", featuring Paul Wassif, appeared on the 2003 film Calendar Girls, and Wassif became a frequent sideman at Bert's live shows. In 2003, Jansch celebrated his 60th birthday with a concert at the Queen Elizabeth Hall in London. The BBC organised a concert for Jansch and various guests at the church of St Luke Old Street, which was televised on BBC Four.

In 2005, Jansch teamed up again with one of his early influences, Davey Graham, for a small number of concerts in England and Scotland. His concert tour had to be postponed, owing to illness, and Jansch underwent major heart surgery in late 2005. By 2006 he had recovered and was playing concerts again. Jansch's album The Black Swan (his first for four years) was released on Sanctuary on 18 September 2006, featuring Beth Orton and Devendra Banhart on tracks "Katie Cruel", "When the Sun Comes Up", and "Watch the Stars", amongst other guests. In 2007, he featured on Babyshambles album, Shotter's Nation, playing acoustic guitar in the song "The Lost Art of Murder". After recording, he accompanied Babyshambles' lead singer Pete Doherty on several acoustic gigs, and performed on the Pete and Carl Reunion Gig, where ex-Libertines and Dirty Pretty Things singer Carl Barat joined Doherty on stage.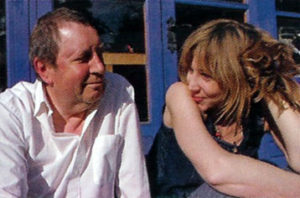 Bert with Beth Orton
In 2009 he played a concert at the London Jazz Cafe to celebrate the release of three of his older albums (LA Turnaround, Santa Barbara Honeymoon and A Rare Conundrum) on CD format. However, later that year, due to an unexpected illness, he had to cancel a 22-date North American tour that was due to start on 26 June. Jansch's website reported: "Bert is very sorry to be missing the tour, and apologises to all the fans who were hoping to see him. He is looking forward to rescheduling as soon as possible."
Jansch opened for Neil Young on his Twisted Road solo tour in the US and Canada, starting on 18 May 2010. He also performed at Eric Clapton's Crossroads festival in June 2010. These were Jansch's first shows since his illness. One of Bert's last recording sessions was with Eric Clapton for Paul Wassif's 2011 album Looking Up Feeling Down. In 2011, a few reunion gigs took place with Pentangle, including performances at the Glastonbury Festival and one final concert at the Royal Festival Hall, London, which was also Jansch's last ever public performance.
Jansch died on 5 October 2011, aged 67, at a hospice in Hampstead after a long battle with lung cancer. He is buried in Highgate Cemetery.
Recognition and awards
In 2001 Jansch received a Lifetime Achievement Award at the BBC Radio 2 Folk Awards, and on 5 June 2006, he received the MOJO Merit Award at the Mojo Honours List ceremony, based on "an expanded career that still continues to be inspirational". The award was presented by Beth Orton and Roy Harper. Rolling Stone ranked Jansch as No. 94 on its list of the 100 Greatest Guitarists of all Time in 2003.

In January 2007, the five original members of Pentangle (including Jansch) were given a Lifetime Achievement award at the BBC Radio 2 Folk Awards. The award was presented by Sir David Attenborough. Producer John Leonard said "Pentangle were one of the most influential groups of the late 20th century and it would be wrong for the awards not to recognise what an impact they had on the music scene." Pentangle played together for the event, for the first time in more than two decades, and their performance was broadcast on BBC Radio 2 on Wednesday, 7 February 2007. In 2007, Jansch was also awarded an Honorary Doctorate of Music by Edinburgh Napier University, "in recognition of his outstanding contribution to the UK music industry".
Music
Bert Jansch's musical influences included Big Bill Broonzy and Brownie McGhee, whom Jansch first saw playing at The Howff in 1960 and, much later, claimed that he'd "still be a gardener" if he hadn't encountered McGhee and his music. Jansch was also strongly influenced by the British folk music tradition, particularly by Anne Briggs and, to a lesser extent, A.L. Lloyd. Other influences included jazz (notably Charles Mingus), early music (John Renbourn and Julian Bream) and other contemporary singer-songwriters – especially Clive Palmer. The other major influence was Davey Graham who, himself, brought together an eclectic mixture of musical styles. Also, in his formative years, Jansch had busked his way through Europe to Morocco, picking up musical ideas and rhythms from many sources. From these influences, he distilled his own individual guitar style.

Some of his songs feature a basic clawhammer style of right-hand playing but these are often distinguished by unusual chord voicings or by chords with added notes. An example of this is his song "Needle of Death", which features a simple picking style but several of the chords are decorated with added ninths. Characteristically, the ninths are not the highest note of the chord, but appear in the middle of the arpeggiated finger-picking, creating a "lumpiness" to the sound.

Another characteristic feature was his ability to hold a chord in the lower strings whilst bending an upper string—often bending up from a semitone below a chord note. These can be heard clearly on songs such as "Reynardine" where the bends are from the diminished fifth to the perfect fifth. Jansch often fitted the accompaniment to the natural rhythm of the words of his songs, rather than playing a consistent rhythm throughout. This can lead to occasional bars appearing in unusual time signatures. For example, his version of the Ewan MacColl song "The First Time Ever I Saw Your Face", unlike most other covers of that song, switches from 4/4 time to 3/4 and 5/4. A similar disregard for conventional time signatures is found in several of his collaborative compositions with Pentangle: for instance, "Light Flight" from the Basket of Light album includes sections in 5/8, 7/8 and 6/4 time.
Instruments
Through the development of Pentangle, Jansch played a number of instruments: banjo, Appalachian dulcimer, recorder and concertina—on rare occasions he has even been known to play electric guitar. However, it is his acoustic guitar playing that was most notable.

Jansch's first guitar was home-made from a kit but when he left school and started work, he bought a Höfner cello-style guitar. Soon he traded this in for a Zenith which was marketed as the "Lonnie Donegan guitar" and which Jansch played in the folk clubs in the early 1960s. His first album was reputedly recorded using a Martin 00028 borrowed from Martin Carthy. Pictures of Jansch in the middle 1960s show him playing a variety of models, including Martin and Epiphone guitars. He had a guitar hand-built by John Bailey, which was used for most of the Pentangle recordings but was eventually stolen.

Jansch later played two six-string guitars built by the Coventry-based luthier, Rob Armstrong, one of which appears on the front and back covers of the 1980 Shanachie release, Best of Bert Jansch. He then had a contract with Yamaha, who provided him with an FG1500 which he played, along with a Yamaha LL11 1970s jumbo guitar. Jansch's relationship with Yamaha continued and they presented him with an acoustic guitar with gold trim and abalone inlay for his 60th birthday although, valued at about £3000, Jansch was quoted as saying that it is too good for stage use. Jansch was a well-known Fylde guitar player.
Influence
Jansch's music, and particularly his acoustic guitar playing, have influenced a range of well-known musicians. His first album (Bert Jansch, 1965) was much admired, with Jimmy Page saying "At one point, I was absolutely obsessed with Bert Jansch. When I first heard that LP, I couldn't believe it. It was so far ahead of what everyone else was doing. No one in America could touch that." The same debut album included Jansch's version of the Davy Graham instrumental "Angie". This was a favourite of Mike Oldfield, who practised acoustic guitar alone as a child, and was then heavily influenced by Jansch's style. The title of the instrumental inspired Oldfield to call his first band (with sister Sally) The Sallyangie.

Jansch's version of "Angie" inspired Paul Simon's recording of the piece, which was retitled "Anji" and appeared on the Simon & Garfunkel album Sounds of Silence. From the same era, Neil Young is quoted as saying, "As much of a great guitar player as Jimi [Hendrix] was, Bert Jansch is the same thing for acoustic guitar…and my favourite." Nick Drake and Donovan were both admirers of Jansch: both recorded covers of his songs and Donovan went on to dedicate two of his own songs to Jansch; "Bert's Blues" appeared on his Sunshine Superman LP, and "House of Jansch" on his fourth album Mellow Yellow. Other tributes included Gordon Giltrap's album Janschology (2000) which has two tunes by Jansch, plus two others that show his influence. Further afield, the Japanese acoustic guitar player Tsuneo Imahori is known to have been heavily influenced by Jansch.
References
Wikipedia – en.wikipedia.org/wiki/Bert_Jansch

Videos – www.youtube.com

Images – http://www.mtv.com http://www.gettyimages.co.nz http://artintopop.blogspot.co.nz https://www.theguardian.com http://www.thetimes.co.uk http://www.psychedelicfolk.com
---
Guitarist #13 . . .
July 2016
R.I.P.
Scotty Moore
Synopsis
Winfield Scott "Scotty" Moore III (December 27, 1931 – June 28, 2016) was an American guitarist and recording engineer. He is best known for his backing of Elvis Presley in the first part of his career, between 1954 and the beginning of Elvis's Hollywood years.

Rock critic Dave Marsh credits Moore with the invention of power chording, on the 1957 Presley song "Jailhouse Rock", the intro of which Moore and drummer D.J. Fontana, according to the latter, "copped from a '40s swing version of 'The Anvil Chorus'." Moore was ranked 29th in Rolling Stone magazine's list of 100 Greatest Guitarists of All Time in 2011. He was inducted into the Rock and Roll Hall of Fame in 2000 and the Memphis Music Hall of Fame in 2015.
Biography
Scotty Moore was born near Gadsden, Tennessee. He learned to play the guitar from family and friends at eight years of age. Although underage when he enlisted, Moore served in the United States Navy between 1948 and 1952.

Moore's early background was in jazz and country music. A fan of guitarist Chet Atkins, Moore led a group called the "Starlite Wranglers" before Sam Phillips at Sun Records put him together with then teenage Elvis Presley. Phillips believed that Moore's lead guitar and Bill Black's double bass were all that was needed to augment Presley's rhythm guitar and lead vocals on their recordings. In 1954 Moore and Black accompanied Elvis on what would become the first legendary Presley hit, the Sun Studios session cut of "That's All Right", a recording regarded as a seminal event in rock and roll history.

The session, held the evening of July 5, 1954, proved entirely unfruitful until late in the night. As they were about to give up and go home, Presley took his guitar and launched into a 1946 blues number, Arthur Crudup's "That's All Right". Moore recalled, "All of a sudden, Elvis just started singing this song, jumping around and acting the fool, and then Bill picked up his bass, and he started acting the fool, too, and I started playing with them. Sam, I think, had the door to the control booth open … he stuck his head out and said, 'What are you doing?' And we said, 'We don't know.' 'Well, back up,' he said, 'try to find a place to start, and do it again.'" Phillips quickly began taping; this was the sound he had been looking for. During the next few days, the trio recorded a bluegrass number, Bill Monroe's "Blue Moon of Kentucky", again in a distinctive style and employing a jury-rigged echo effect that Sam Phillips dubbed "slapback". A single was pressed with "That's All Right" on the A side and "Blue Moon of Kentucky" on the reverse.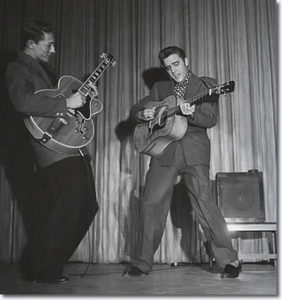 Elvis, Black and Moore then formed the Blue Moon Boys.
For a time, Moore served as Elvis's personal manager. They were later joined by drummer D.J. Fontana. Beginning in July 1954, the Blue Moon Boys toured and recorded throughout the American South and, as Presley's popularity rose, they toured the United States and made appearances in various Presley television shows and motion pictures. The Blue Moon Boys, including Moore, appear in the few 1955 home movie clips that survive of Elvis before he achieved national recognition. Moore, Black, and Fontana also appear on the Dorsey Brothers, Milton Berle, Steve Allen, and Ed Sullivan live TV shows of January 1956 to January 1957. Moore and Fontana also reunited on the 1960 Timex TV special with Frank Sinatra welcoming Elvis's return from the Army.
Moore played on many of Presley's most famous recordings, including "That's All Right", "Good Rockin' Tonight", "Milk Cow Blues Boogie", "Baby Let's Play House", "Heartbreak Hotel", "Mystery Train", "Blue Suede Shoes", "Hound Dog", "Too Much", "Jailhouse Rock" and "Hard Headed Woman". Moore and the Blue Moon Boys also perform (and have additional small walk-on and speaking roles) with Elvis in four of his movies (Loving You, Jailhouse Rock, King Creole and G.I. Blues) filmed in 1957, 1958 and 1960.

Early in 1958, when Elvis was drafted, Scotty began working at Fernwood Records and produced a hit record called "Tragedy" for Thomas Wayne Perkins—brother of Johnny Cash guitarist Luther Perkins.

In 1960, Moore commenced recording sessions with Elvis at RCA, and also served as production manager at Sam Phillips Recording Service, which involved supervising all aspects of studio operation. Moore played on such Presley songs as "Fame And Fortune", "Such A Night", "Frankfort Special", "Surrender", "I Feel So Bad", "Rock-A-Hula Baby", "Kiss Me Quick", "Good Luck Charm", "She's Not You", "(You're The) Devil in Disguise" and "Bossa Nova Baby".

In 1964, Moore released a solo album on Epic Records called The Guitar That Changed the World, played using his Gibson Super 400. For this effort he was fired by Sam Phillips. Moore reunited with Fontana and Presley for the NBC television special known as the '68 Comeback Special, again with his Gibson Super 400 which was also played by Presley. This special was the last time these musicians would play with Presley, and for Moore it was the last time he ever saw him.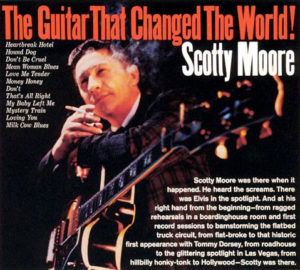 Style and influence
Moore's playing on his Gibson with his unique finger-picking style using a thumbpick, as on the Sun and early RCA recordings, represented a move of the Chet Atkins style into a more rockabilly mode. Moore's best performances are often considered precedent-setting.

Of Presley's first single "That's Alright Mama", critic Dave Marsh writes that "Moore's guitar–especially the solo–toughens the song up and forces it to rock." Though Marsh credits Presley with introducing "the vocal stutter" on "Baby Let's Play House", "Other than that, it's guitarist Scotty Moore's show, and he sets a few precedents of his own." Of the other Sun recordings, Marsh cites the "urgent Scotty Moore guitar lick" as a standout element of "Mystery Train", while "Good Rockin' Tonight" displays his "stinging guitar".

In Marsh's description, the teamwork of Moore and other musicians turns the 1957 single and movie title song "Jailhouse Rock" into an "enduring smash for at least three reasons: the great walking bass, Scotty Moore's invention of power chording, and D.J. Fontana's drumming, which is halfway between strip joint rhumba and the perfect New Orleans shuffle."

On the 1961, post-Army Presley single "Little Sister", "Scotty Moore comes up with his greatest post-Sun guitar lick and not only converts a comparatively humdrum Pomus-Shuman teen love triangle number into the best of Elvis's early sixties hits, but (together with D.J. Fontana's heavy-footed thunderation) gives more than a few pointers toward the metallic rock to come." According to Presley discographer Ernst Jorgensen, however, Hank Garland is the lead guitarist on the song while Moore plays acoustic guitar.

Moore is given credit as a pioneer rock 'n' roll lead guitarist, though he characteristically downplayed his own innovative role in the development of the style. "It had been there for quite a while", recalled Moore. "Carl Perkins was doing basically the same sort of thing up around Jackson, and I know for a fact Jerry Lee Lewis had been playing that kind of music ever since he was ten years old." Paul Friedlander describes the defining elements of rockabilly, which he similarly characterizes as "essentially … an Elvis Presley construction": "the raw, emotive, and slurred vocal style and emphasis on rhythmic feeling [of] the blues with the string band and strummed rhythm guitar [of] country". In "That's All Right", the Presley trio's first record, Scotty Moore's guitar solo, "a combination of Merle Travis–style country finger-picking, double-stop slides from acoustic boogie, and blues-based bent-note, single-string work, is a microcosm of this fusion."

Many popular guitarists cite Moore as the performer that brought the lead guitarist to a dominant role in a rock 'n' roll band. Although some lead guitarists/vocalists, such as Chuck Berry and blues legend BB King, had gained popularity by the 1950s, Presley rarely played his own lead while performing, instead providing rhythm guitar and leaving the lead duties to Moore. As a guitarist, Moore was a noticeable presence in Presley's performances, despite his introverted demeanor. He became an inspiration to many subsequent popular guitarists, including George Harrison, Jeff Beck, and Keith Richards of the Rolling Stones. While Moore was working on his memoir with co-author James L. Dickerson, Richards told Dickerson, "Everyone else wanted to be Elvis—I wanted to be Scotty." Richards has stated many times (Rolling Stone magazine, Life autobiography) that he could never figure out how to play the "stop time" break and figure that Moore plays on "I'm Left, You're Right, She's Gone" (Sun), and that he hopes it will remain a mystery.
Equipment
While with Presley, Moore initially played a Gibson ES-295 (nicknamed "The Guitar that Changed the World") before switching to a Gibson L5 and subsequently a Gibson Super 400.
One of the key pieces of equipment in Moore's sound on many of the recordings with Elvis, besides his guitars, was the use of the Ray Butts EchoSonic (first used by Chet Atkins), a guitar amplifier with a tape echo built in, which allowed him to take his trademark slapback echo on the road.
Death
Moore died on June 28, 2016, in Nashville, Tennessee, at the age of 84.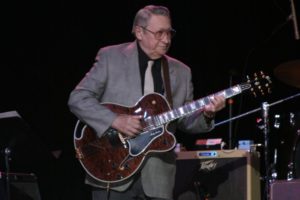 Compositions
Scotty Moore co-wrote the songs "My Kind of Carrying On" and "Now She Cares No More" which were released as Sun 202 on Sun Records in 1954 when he was a member of the group Doug Poindexter and the Starlite Wranglers with Bill Black as the bassist. He co-wrote the instrumental "Have Guitar Will Travel" in 1958 with Bill Black, which was released as a 45 single, 107, on the Fernwood Records label.
Awards
For his pioneering contribution, Moore has been recognized by the Rockabilly Hall of Fame. In 2000, he was inducted into the Rock and Roll Hall of Fame.
References
Wikipedia – en.wikipedia.org/wiki/Scotty_Moore

Video – www.youtube.com

Images – mindenmemories.org www.collectorsroom.com.br www.gibson.com www.scottymoore.net www.pinterest.com
---
Guitarist #12 . . .
June 2016
Mark Knopfler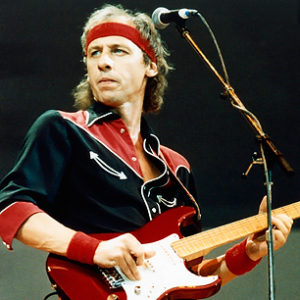 Sultans of Swing
Synopsis
Mark Freuder Knopfler, OBE (born 12 August 1949) is a British singer, songwriter, guitarist, record producer and film score composer. He is best known as the lead guitarist, lead singer and songwriter for the rock band Dire Straits, which he co-founded with his younger brother, David Knopfler, in 1977.

Since Dire Straits disbanded in 1995, Knopfler has recorded and produced eight solo albums, and, as with his previous band, produced many hit songs. He has composed and produced film scores for nine films, including Local Hero (1983), Cal (1984), The Princess Bride (1987), Wag the Dog (1997) and Altamira (2016).

In addition to his work with Dire Straits and as a solo artist and composer, Knopfler has recorded and performed with many prominent musicians, including Chet Atkins, Chris Botti, John Anderson, the Chieftains, Eric Clapton, Bob Dylan, Elton John, Bryan Ferry, George Jones, Emmylou Harris, Jools Holland, Sonny Landreth, Phil Lynott, Van Morrison, Steely Dan, Sting, and James Taylor, sometimes working as a session musician. He has produced albums for Tina Turner, Bob Dylan, and Randy Newman.

Knopfler is a fingerstyle guitarist and was ranked 27th on Rolling Stone magazine's list of 100 Greatest Guitarists of All Time. Knopfler and Dire Straits have sold in excess of 120 million albums to date. A four-time Grammy Award winner, Knopfler is the recipient of the Edison Award, the Steiger Award and the Ivor Novello Award, as well as holding three honorary doctorate degrees in music from universities in the United Kingdom.
Early Life
Mark Knopfler was born in Glasgow, Scotland, on the 12th of August 1949, to Erwin and Loisa Mary Knopfler. His father was a Hungarian Jew who fled Hungary in 1939 and his mother was from the North-East of England. He was around seven years old when the Knopfler family moved to Newcastle-Upon-Tyne. Mark attended Gosforth Grammar School. As a young boy Mark was inspired by his uncle Kingsley's harmonica and boogie-woogie piano playing. Later, in his teens, he set his heart on an all too expensive flamingo-pink Fender Strat, just like Hank Marvin's, but in the end he had to settle for a £50 twin pick-up Hofner Super Solid and £50 was a lot of money in those days. Like lots of other guitar-toting schoolboys of the 1960s, he served an early apprenticeship by forming and joining anonymous schoolboy bands and listening to guitarists such as Scotty Moore, Jimi Hendrix, Django Reinhardt and James Burton. At sixteen he made a local TV appearance as half of a harmony duo along with the sister of one of his school friends, Sue Hercombe.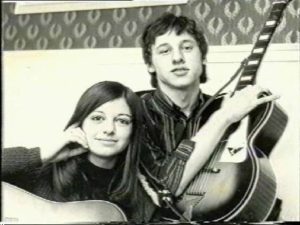 A young Mark with Sue Hercombe

At school Mark had demonstrated a flair for English and in 1967 he went to study journalism for a year at Harlow Technical College. At the end of the course he secured a job in Leeds as a junior reporter on the Yorkshire Evening Post. After two years he decided to further his studies and commenced a degree in English at Leeds University. It was whilst Mark was living in Leeds that he met a local blues singer/guitarist by the name of Steve Phillips. Mark wrote newspaper articles and reviews on the music scene in and around Leeds. By an odd coincidence, Mark's boss was another man by the name of Stephen Phillips. This has caused some confusion over the years and a number of Steve Phillips biographies have claimed erroneously that Steve himself worked as a journalist. Mark and his boss – the other 'Steve Phillips' – went to see Steve playing in Leeds. Steve fondly recalls how Mark's first words were "Steve Phillips, meet Steve Phillips."

Steve and Mark found that musically they had much in common and they went on to form a duo called The Duolian String Pickers. By day Mark continued working as a reporter and, later, as a full-time student, while Steve took a job restoring paintings and furniture at Leeds City Art Gallery and Temple Newsam House. They played together on and off over the next five years. Some of their work is featured on Steve's 1996 Just Pickin' album. "He was a good guitar player", Steve says wryly of the young Knopfler, "in a B.B.King sort of way." Steve was to have a profound affect on Mark's guitar playing introducing him to the intricate lead technique of black blues guitarist Lonnie Johnson and the subtle skills of country blues guitar, the elements of which Mark was eventually to weave into his own unique style of guitar picking. This was, in fact, a very important stage in Mark's development as a guitarist. He was later to tell Jack Sonni that it was not until he began to finger-pick that he found his guitar 'voice'. While living in Leeds Mark made his first record. It was recorded in a room that had been converted into studio in a house in Pudsey. The song was called Summer's Coming My Way and it featured Steve Phillips on twelve-string guitar.
Moving South
On graduating from Leeds University in 1973 Mark decided to go to London and try to break into the rock scene. He scanned through the music press and finally answered the biggest advert he could find in Melody Maker. That led him to an audition and a two month stint with a blues band called Brewer's Droop. Mark played guitar on three songs they recorded at Dave Edmunds' Rockfield Studios in Wales. The band's drummer was a guy called Pick Withers. Pick had turned professional at the age of seventeen and was a very experienced drummer. Having left Brewer's Droop Mark took up a job as a lecturer at Loughton College in Essex where he remained for two years living in a rented flat in Buckhurst Hill, sometimes giving guitar lessons at Staples Road School. Then brother David came to stay for a few weeks en route to London. The Knopfler brothers would often sit up late into the night playing songs and, without knowing it, to some extent laying the foundations of what was to become, in time, Dire Straits. It was the mid-1970s, David moved on to London and Mark went on to form a working band with friends at Loughton College. They called themselves the Café Racers.

David came to share a flat at Farrer House on Deptford's Crossfield Estate, South-East London, with a Leicester-born bass player by the name of John Illsley. John recalls first meeting Mark. "I'd been out all night and came in about ten in the morning. I walked into the kitchen, started making myself a cup of tea, walked into the lounge and there was this guy lying on the floor with his head propped up against a chair. He was fast asleep, fully clothed in denim with leather boots. He had a guitar slouched over his waist." David had often spoken to John of his guitar-playing brother and John guessed correctly that the guy sprawled out on the lounge floor was indeed Mark. It wasn't long before John found himself on stage with Mark. One night the Café Racers' bass player was ill and John was asked to stand-in. Mark and John immediately struck up a great working relationship and both realised that, despite having built-up a good reputation on the local pub scene, the Café Racers had a limited future. In April 1977 Mark gave up his flat in Buckhurst Hill and moved in with David and John.
Dire Straits
John quickly realised that not only was Mark a talented and excitingly different guitar player, he was also a gifted song-writer. During the summer of 1977 the three musicians found themselves playing and rehearsing Mark's songs. Yet, something was missing – a drummer. Mark, recalling his brief stint with Brewer's Droop, said he knew of a drummer who would be ideal for the sort of music they were developing. Mark had been very impresssed with Pick Withers back in 1973 and so Pick was invited to the Farrer House flat and the four musicians began doing gigs together under the name of Mark's old band, the Café Racers. John recalled that "playing with Pick Withers was fantastic…I'd never played with anybody as good as him." Later, a friend of Pick's suggested a new name for the band – Dire Straits. The die was cast. The band's first gig took place on the open space at the back of the Farrer House flats, the electricty provided by a power cable running from the stage into a socket on the wall of John's first floor flat.
Shots from a very early Dire Straits gig
Punishing rehearsals and live gigs followed. There was just enough room in the back of John's estate car for the band's equipment and they earned just enough money to pay for PA hire and a round of beers. On the 27th of July 1977 Dire Straits recorded the now famous demo tapes of five songs – Wild West End, Sultans of Swing, Down To The Waterline, Sacred Loving and Water of Love. In what was probably October they recorded Southbound Again, In The Gallery and Six Blade Knife for BBC Radio London and, finally, on the 9th of November demo tapes were made of Setting Me Up, Eastbound Train and Real Girl. Many of these songs reflected Mark's experiences in Newcastle, Leeds and London, and were to be featured on the first Dire Straits album the following year: Down To The Waterline recalled images of life in Newcastle; In The Gallery is a tribute to a Leeds sculptor/artist named Harry Phillips, father of Steve; and, Lions, Wild West End and Eastbound Train were all drawn from Mark's early days in the capital.
The demo tapes were given to BBC Radio London DJ Charlie Gillett. Charlie played the tapes calling upon record company executives to sign this new band: enter John Stainze and Ed Bicknell. It is said that Phonogram A&R man Stainze was in the shower listening to the radio when he first heard Dire Straits. A few weeks later he signed the band to Phonogram's Vertigo label and Mark secured a publishing deal with Rondor Music. Towards the end of 1977 Ed Bicknell was working at the NEMS agency when he got a call from Stainze asking him to fix up some gigs for Dire Straits. Ed was invited round to Phonogram's offices in December where he heard the Charlie Gillett demo tapes. He was then taken to Dingwalls Club in North London to meet Dire Straits. The date was the 13th of December, 1977, and as he walked into the club they were playing Down To The Waterline. Ed recalls, "The first thing I noticed was that it wasn't necessary to stand at the back of the room; they were very quiet. I'd just done The Ramones, who were deafening……The second thing I noticed was that Mark was playing a red Stratocaster, which immediately made me think of Hank Marvin, who I had idolised in the sixties." After hearing two or three numbers Ed decided that he wanted to manage the band. He was organising a tour for Talking Heads and was able to put his new band on the bill as the support act. Dire Straits were paid £50 per night for the Talking Heads tour; a ten-fold increase from their fee at Dingwalls. The rest – as is often said – is history.
Dire Straits: From local heroes to supergroup
Ed Bicknell's former assistant, Liz Whatley, when asked when it was that she realised Dire Straits were going to be really big. She replied that it was the first time she heard Romeo and Juliet. By the mid-1980s Dire Straits had released Brothers in Arms, one of the best selling albums of all time, and had been tagged 'the biggest band in the world'. By that stage the recording and touring personnel of the band had changed more than once. David left. Hal Lindes, guitar, and Alan Clark, keyboards, joined. Then came Tommy Mandel, keyboards, and Mel Collins, saxophone. Pick left and was replaced on drums by Terry Williams. Keyboard player Guy Fletcher became a member of Dire Straits for the Brothers In Arms album. Jack Sonni, guitar, and Chris White, saxophone, were brought in for the subsequent world tour. By the time Dire Straits commenced the 1991/92 On Every Street tour Mark, John, Alan, Guy and Chris were left from the mid-80s line-up. They were joined on stage by Phil Palmer, guitar, Paul Franklin, pedal-steel guitar, and percussionists Danny Cummings and Chris Whitten. Others who have been featured on Dire Straits' recordings include Roy Bittan, keyboards, and Joop De Korte, drums. The Brothers In Arms tour saw Dire Straits play 234 shows in twelve months to combined audiences of about 2.5 million.
Mark brought Dire Straits back together for the 1988 Nelson Mandela 70th Birthday Concert which featured Eric Clapton who was standing-in for Jack Sonni as Jack had just become the father of twin girls. Mark, John, Alan and Guy appeared on stage at Knebworth in June 1990 along with, among others, Eric Clapton, Elton John, Ray Cooper and Phil Palmer, to help raise funds for the Nordoff Robbins charity. Then came the On Every Street album. The resulting extensive world tour, which played to more than four million people, was punishing and exhausting. After it was over Mark felt that he needed to take a break from the pressures of live performance and studio schedules.
Collaborations, The Notting Hillbillies & Solo work
Almost immediately after the Brothers in Arms tour with Dire Straits, Mark was producing Tina Turner but, at the same time, felt he needed to get back to his roots. Long-time mates Steve Phillips and Brendan Croker had teamed-up to form a duo shortly after Mark had left Leeds in 1973. In 1986 Steve was in London and called in to see Mark who said he fancied coming up to Leeds and sitting in with Steve and Brendan on one of their gigs. This resulted in the three of them playing together at The Grove pub in Hunslet, Leeds, on the 31st of May, 1986. The following year Mark offered to produce Steve's next album but Steve suggested that a new album should feature both himself and Brendan. Guy Fletcher was brought in to help out on the technical side. From this evolved the Notting Hillbillies. Ed Bicknell is an accomplished drummer in his own right and during a meal in a Notting Hill wine bar, Mark sat next to him and said "OK, Ed; we've formed a band, and you're the drummer." Paul Franklin joined on pedal-steel guitar. There followed an extensive UK tour to promote the 1990 release of the multi-platinum selling album Missing……Presumed having A Good Time.
The Notting Hillbillies
Also in 1990 Mark was able to release the Neck and Neck album, a joint project with the greatly admired Chet Atkins.Over the years Mark has collaborated with many artists.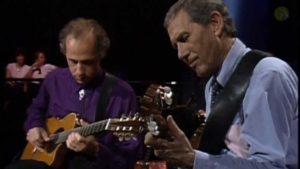 Mark with Chet Atkins
He has at one time or other worked with people such as Bob Dylan, Van Morrison, Randy Newman, Buddy Guy, Tina Turner, Phil Lynott, Willy DeVille, Eric Clapton, Waylon Jennings, Chet Atkins, Phil Everly, Vince Gill, Paul Franklin, Kate and Anna McGarrigle, Paul Brady, The Chieftains, Ben. E. King, Mary Chapin-Carpenter, Joan Armatrading, Scott Walker, Jeff Healey, The Judds, Jimmy Nail, Bryan Ferry, Aztec Camera, Steely Dan, Sting, Sonny Landreth, James Taylor, Emmylou Harris, Gillian Welch and David Rawlings. He has also devoted a great deal of time to charity work for institutions large and small. Dire Straits did a total of three concerts for the Prince's Trust in front of Prince Charles and Diana, Princess of Wales. They appeared at the 1985 Live Aid Concert and the 1988 Nelson Mandela 70th Birthday Concert. In 1995 Mark was featured on the chart-topping Dunblane single Knockin' On Heaven's Door and in September 1997 was one of the artists who performed for Sir George Martin's Music For Montserrat Concert at the Royal Albert Hall. The Notting Hillbillies, too, have performed many charity concerts helping to raise money for a range of deserving causes.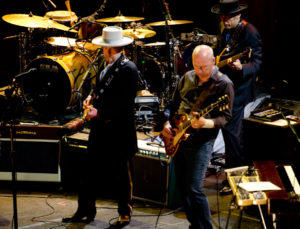 With Bob Dylan
Mark also found time to score the music to numerous films. First came Local Hero in 1983 followed in 1984 by the Cal and the Comfort and Joy soundtracks. These were followed in 1987 by The Princess Bride and two years later came Last Exit To Brooklyn. Further soundtrack work has seen the release of Metroland and Wag The Dog, both of 1998, and the soundtrack album to the film A Shot At Glory released in 2001. In 2016 Mark collaborated with Evelyn Glennie for the soundtrack to the film Altamira.
In 1996 Mark began his career as a solo performer with the release of the Golden Heart album. The album was simply a step forward in the evolution of his music, "It's just moving forwards…", he said, "… just trying to be better." Mark's solo career has allowed him to hone his rare talent as a singer/song-writer. His second solo album, Sailing To Philadelphia, was released in 2000. Autumn 2002 saw the release of his third solo album, The Ragpicker's Dream, but, just as rehersals were about to begin, the planned 2003 tour had to be cancelled due to a serious motorcycle accident. Thankfully, Mark made a full recovery from his injuries and was on the road again in 2005 to promote his fourth solo album, Shangri-La, released in September 2004. One year on saw the release of The Best of Dire Straits and Mark Knopfler: Private Investigations compilation album. 2006 saw the release of a number of albums to which Mark contributed and also of the much acclaimed and Grammy nominated All The Roadrunning CD with Emmylou Harris, promoted by a tour of Europe and North America. 2007 saw the release of another solo album, Kill To Get Crimson, followed by a 2008 promotional tour of Europe and the USA. Mark's sixth solo album, Get Lucky, was released on the 14th of September, 2009, another North America/Europe tour followed in 2010. Autumn 2011 saw Mark and his band undertaking a short European tour with Bob Dylan with a similar tour taking place in North America late-2012. The double CD Privateering, was released on the 3rd of September, 2012, with a European tour to follow in 2013. 2015 sees the release of a ninth solo ablum, Tracker (which includes all of All The Roadrunning), with concerts in Europe and North America.
Mark Knopfler has always been a songster, to him the song is king. It is said that he has never really understood why his music is so popular. In this he is not alone. When reviewing the Sultans of Swing compilation album in November 1998, the writers of Mojo magazine commented "overwhelming sales testify to Mark Knopfler's song-writing ability and guitar expertise, and there is certainly something intimate and friendly in that smokey voice and fluid guitar, though the scale of Dire Straits' success remains mildly baffling." Some have tried to answer this by arguing that Mark's music has an instant appeal. Perhaps a better explanation comes in Robert Sandall's liner essay for the Sultans of Swing compilation. Sandall noted, "As the fires of punk raged around them, they made no secret of their love for styles of music which the cultural commissars of the day had recently declared irrelevant….What part could this lot possibly play in the brave new world of anarchy, media manipulation and anti-musicianship? Apart from their consummate skill as performers, it was their complete disregard for all the fashionable nonsenses of the moment that rescued Dire Straits from the fate which swiftly overtook most of their punky contemporaries. While others lived and died in a blaze of publicity and disappointing record sales, they took the world by stealth….Dire Straits were, above all, superb communicators…. The heartfelt simplicity of their music – chiefly derived from Mark Knopfler's gruff vocals and elegantly burnished Fender guitar tone – came across in songs that sounded both fresh and timeless, and which also possessed a breathtaking accuracy."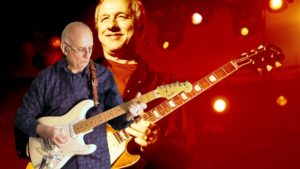 Personal Notes
Although naturally left-handed, Mark plays guitar right-handed.

He has been the recipient of countless awards and accolades from Grammies to an OBE. In May 1993 he was conrerred with an Honorary Doctor of Music Degree by Newcastle University of which he is justly proud. He also has honorary music doctorates from the universities of Leeds and Sunderland. In 1999, Mark was awarded an OBE (Order of the British Empire) in the Queen's Honours List. In 2001, British scientists named a dinosaur they discovered after him: the dinosaur, which was discovered in Madagascar, was named "Masiakasaurus Knopfleri." Many more honours have followed such as an ARPS Sound Fellowship (2009) bestowed on individuals who have made a "significant contribution to the art, science or business of sound recording", a PRS Music Heritage Award (2009) and an Ivor Novello Lifetime Achievement Award (2012).

There remains another side to Mark Knopfler, a private side. By the mid-80s Mark was being referred to by some as the "quiet man of rock and roll." Shy by nature, in some ways Mark has tended to shun fame. He gets embarrassed when fans tell him how much they have been affected by his songs and how his music has changed their lives. It is a matter of public record that Mark has been married three times. His second marriage produced his twin sons, Benji and Joseph, born in 1987, and his third marriage to Kitty Aldridge has been blessed with two daughters, Isabella, born in 1998, and Katya born in 2003. After more than thirty years at the top of his profession, Mark Knopfler remains at heart a family man who loves nothing better than to spend time with his wife and his children.

He has a collection of classic cars which he races and exhibits at shows, including a Maserati 300S and an Austin-Healey 100S.
The Ragpicker's Dream
References
MK News – www.mark-knopfler-news.co.uk
Wikipedia – en.wikipedia.org/wiki/Mark_Knopfler

Video – www.youtube.com

Images – www.rollingstone.com nz.pinterest.com www.mk-guitar.com www.wallpapersxl.com arthurfromholland.blogspot.co.nz www.youtube.com>/p3> www.oneverybootleg.nl
---
Guitarist #11 . . .
May 2016

In recognition of New Zealand Music Month, we present a Kiwi icon . . .
Billy TK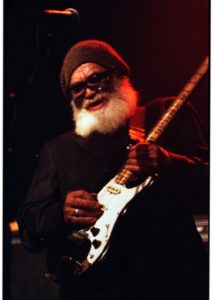 Billy TK
Synopsis
Billy TK (Billy Te Kahika) is a Māori guitarist, born in Palmerston North, New Zealand. He has often been touted as the Māori Jimi Hendrix, and is one of the most respected and technically proficient guitarists in New Zealand today.
Early work
Billy TK's began playing guitar at an early age, and was surrounded by talented young musicians during his family's frequent visits to Ratana Pā, who helped fulfill his lust for improving his skills on his instrument. He played gigs for friends and family during his high school years, and once he had finished school, he set to build his own band. The result of this was The Sinners with Ted Cash on drums, Sonny Ratana on bass, Harold Hine on rhythm guitar and lead vocalist Theo Swanson. The band played at 21st birthday parties and the like until being invited to play at Rickies nightclub in Palmerston North and other venues around the Manawatu. The Sinners were one of the first New Zealand bands to utilise distortion and similar guitar effects, and these effects would become a staple of Billy's guitar sound. It was around this time, in the mid-1960s, that Billy TK's friend, Ara Mete, gave Billy a gift — his first fuzz box and treble booster. Billy quickly took it to an electrical shop in Palmerston North, where he had copies of both made. Billy was hooked on the sound, and his obsession for guitar effects only received more grounding once the Jimi Hendrix album Are You Experienced? hit the airwaves in New Zealand, and Billy quickly made The Sinners learn all the tracks on the album.
Human Instinct
After 4 years of playing together, The Sinners were reduced to a three piece band when Theo Swanson and Harold Hine both left, after which Billy TK also parted ways with the band to travel to Melbourne to set up a unit there called Compulsion with Paddy Beach and Reno Tehei. On Billy's return to New Zealand in May 1968, Billy TK auditioned for The Human Instinct, with Maurice Greer on vocals and bass player Frank Hay, and after playing for them once, he was allowed into the band. After a tour of the South Island and two changes of bass players, the band was ready to play the Auckland circuit, where they mesmerised their audiences with their edgy, heavily Hendrix influenced hard rock sound. The trio recorded three albums with Billy TK on guitar; Burning Up Years, Stoned Guitar and Pins In It, which made the band legendary in New Zealand.

In 1970, Human Instinct played a three nights a week residency at the Bo Peep club, (Durham Lane) on one occasion with guest band The Game (1970 Battle of the Bands Auckland Winners). Human Instinct also played two nights at Hatchets,(24 Cook St) also supported on one night by The Game.

In 1972 during a short tour of Australia, Billy TK left Human Instinct after a series of disagreements on musical direction. He was replaced by Graeme Collins (Dedikation/Dragon) and the group recorded three more albums before going into hiatus.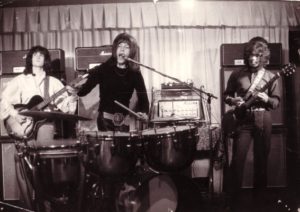 Billy with Human Instinct
Billy TK's Powerhouse
In 1972 he formed a new band, Billy TK's Powerhouse, playing in Wellington with former Blackfeather drummer Steve Webb from Australia, guitarist John Bilderbeck from Wanganui and Gav Collinge on bass. When Webb and Bilderbeck left, Powerhouse shifted base to Palmerston North, recruiting Ara Mete on rhythm guitar, Jamie Tait-Jamieson on keyboards, Bud Hooper on drums, Arnold Tihema on congas and lead vocals and Mahia Blackmore on vocals and percussion. The band later also featured Neal Storey (ex-Dragon) and Peter Kellington. Powerhouse also supported Black Sabbath, Split Enz, John Mayall, Sonny Terry and Brownie McGhee, UB40, Joe Satriani and the Neville Brothers in concert, although keyboardist Jamie Tait-Jamieson (founder of Biofarm Products Ltd.) left the group during this period, having given up full-time musicianship to run his family farm and marry his fiancee Catherine Rowland.
Beyond The Material Sky

Powerhouse disbanded in 1977. They released no records during their career, although an album's worth of unreleased 1972 studio recordings (all cover versions) were belatedly issued in 2009 as Move On Up. A live concert recorded in 1975 also received a very limited vinyl release in 1990 as Life Beyond The Material Sky.
Later work
In April 1996, TK performed a song with Carlos Santana at an Auckland concert.[3] He has worked with several bands including Dunedin Flying Nun Records band King Loser, with whom he recorded an album. He also recorded with hip hop band DLT. He continues to perform and has played at several Human Instinct reunion gigs. In November 2008 TK unexpectedly joined former Powerhouse keyboardist Jamie Tait-Jamieson (now part of the 4-piece Manawatu family group The T-Bar Jays) onstage at the inaugural Mai Farm Festival in the Pahongina Valley.
Excerpts from work done with his son, Billy TK Jnr . . .
. . . and with Whare Mana
Recent work
January 2008 saw Billy play with the Emma Paki Band opening the Parihaka International Peace Festival with Emma Paki, Mara TK, Jonathan Crayford, James Davenport, and others.

January 2009 saw Billy playing again at Parihaka International Peace Festival, this time as part of a reunited Powerhouse.

June 2010 saw the release of Gordonia, a feature film with a soundtrack by Billy. The film featured two tracks with the Human Instinct and a new recording, Gordonia Electric Suite.
Billy currently plans to increase peace work both within New Zealand and across international boundaries with StarPeace project.
References
Wikipedia – en.wikipedia.org/wiki/Billy_TK

Video – www.mp3tunes.tk

Images – www.pointthatthing.com www.wordworx.co.nz
---
Guitarist #10 . . .
April 2016
Tommy Emmanuel
Synopsis
William Thomas "Tommy" Emmanuel, (born 31 May 1955) is an Australian guitarist, songwriter and occasional singer, best known for his complex fingerstyle technique, energetic performances and the use of percussive effects on the guitar. Although originally a session player in many bands, Emmanuel has carved out his own style as a solo artist in recent years, releasing award winning albums and singles. In the May 2008 and 2010 issues of Guitar Player Magazine, he was named "Best Acoustic Guitarist in their readers' poll. In June 2010 Emmanuel was appointed a Member of the Order of Australia.
Biography
"When I was on stage people lit up. I didn't know what it was, but it made me kind of show off and do all the things that cocky little kids do at 6, 7, 8 years old. Music was the worst drug I ever had, and I'm still hooked on it."
Emmanuel was born in Australia in 1955. He received his first guitar in 1959 at age four and was taught by his mother to accompany her playing lap steel guitar. He never learned to read and write music, but he and his brother Phil were dedicated students of the instrument, creating games that helped them identify chords and patterns. They became adept at picking out the nuances of complex chords, a talent that takes most musicians years to develop. At the age of seven in 1961 he heard a young Chet Atkins playing on the radio. He vividly remembers this moment and says it greatly inspired him.
By the age of six, in 1961, he was a working professional musician. Recognizing the musical talents of Tommy and his older brother Phil Emmanuel, their father created a family band, sold the family home and took his family on the road. With the family living in two station wagons, much of Emmanuel's childhood was spent touring Australia with them, playing rhythm guitar, and rarely going to school. The family found it difficult living on the road; they were poor but never hungry, never settling in one place. His father would often drive ahead, organize interviews, advertising and finding the local music shop where they would have an impromptu concert the next day. Eventually the New South Wales Department of Education insisted that the Emmanuel children needed to go to school regularly.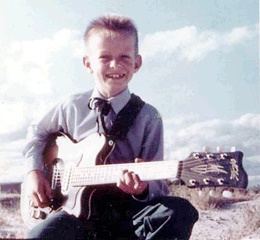 Tommy, a professional guitarist from the age of 6!
After his father died in 1966, the family settled in Parkes. Tommy eventually moved to Sydney where he came to be noticed nationally when he won a string of talent contests in his teen years. By the late 1970s, he was playing drums with his brother Phil in the group Goldrush as well doing session work on numerous albums and jingles. He gained further prominence in the late 1970s as the lead guitarist in The Southern Star Band, the backing group for vocalist Doug Parkinson. During the early 1980s, he joined the reformed line-up of leading 1970s rock group Dragon, touring widely with them, including a 1987 tour with Tina Turner. He left the group to embark on a solo career.
Throughout his career he has played with many notable artists including Chet Atkins, Eric Clapton, Sir George Martin, Air Supply, John Denver, Les Paul, Edgar Cruz, Martin Taylor and Doc Watson.
In 1994 Australian music veteran John Farnham invited him to play guitar next to Stuart Fraser from Noiseworks for the Concert For Rwanda. Emmanuel became a member of Farnham's band. He had previously been a member of Farnham's band during the early 1980s and featured on the album Uncovered.
Emmanuel and his brother Phil performed live in Sydney at the closing ceremony of the Summer Olympics in 2000. The event was televised worldwide with an estimated 2.85 billion viewers. When performing together the pair sometimes share and play just one guitar with each having one hand free.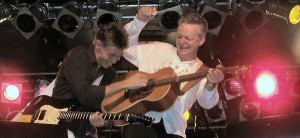 Tommy & Phil
In October 2002 he was invited to perform the Australian folk song "Waltzing Matilda" at a service at the Washington National Cathedral held for the victims of the Bali bombings.
In December 2007 he was diagnosed with heart issues and was forced to take a break from his hectic touring schedule due to exhaustion, but returned to full-time touring in early 2008.
In late January 2010, after the 2010 Haiti earthquake earlier in the same month, Emmanuel announced that he would be auctioning off three guitars, that he personally played and owned, on eBay, in order to raise money to donate to UNICEF in Haiti.
Tommy is currently a resident of Nashville.
In November 2014, Tommy signed a new management deal with Nashville-based ABI.
In 2015, he announced the formation of his own record label, CGP Sounds.
Honours
In June 2010 Emmanuel was appointed a Member of the Order of Australia.

In 2012, due to his virtuoso status and dissemination of the "fingerstyle" method of guitar picking, the Commonwealth of Kentucky and Governor Steve Beshear awarded Emmanuel the state's highest honour – the Kentucky Colonel title. The fingerstyle method began in Northwestern Kentucky and was pioneered by Merle Travis.

Chet Atkins commented that Emmanuel was a "fearless" fingerpicking guitar player, and awarded Tommy and three others (John Knowles, Jerry Reed, and Steve Wariner) the "Certified Guitar Player" title.
Musical Style
Emmanuel's fingerstyle technique shown at a June 2006 performance at the City Stages venue in Birmingham, Alabama, USA.

Emmanuel has said that even at a young age he was fascinated by Chet Atkins' musical style (sometimes referred to as Travis picking) of playing bass lines, chords, melodies and harmonies simultaneously using the thumb and fingers of the right hand, achieving a dynamic range of sound from the instrument. Although Emmanuel's playing incorporates a multitude of musical influences and styles, including jazz, blues, bluegrass, folk and rock, this type of country fingerstyle playing is at the core of his technique. While Emmanuel has never had formal music training, and does not read or write music, his natural musical ability and intrinsic sense of rhythm has gained him fans from all over the world. As a solo performer he never plays to a set list and uses a minimum of effects onstage and he usually completes studio recordings in one take.

His main stage guitars which he plays on his solo shows are made by Maton, an Australian guitar manufacturing company. He usually travels with two custom Maton EBG808 TE models and one TE1 model, both of which are Tommy Emmanuel artist signature models. He has been playing Maton guitars for most of his career and is somewhat of an ambassador to the company due to his long-standing association with the brand. Emmanuel has come to be known for the battered and worn-down appearance of his guitars. This is a result of his dynamic, energetic playing and percussive techniques; one of his signature performances, for example, involves striking the whole body of the guitar in various places with his hands or a drummer's snare-drum brush to emulate the sound of an entire percussion kit.

Emmanuel usually keeps one Maton EBG808 in standard guitar tuning (E-A-D-G-B-E), while he tunes his second Maton EBG808 to D-G-D-G-B-E (G6 tuning) and his TE1 to C♯-F♯-B-E-G♯-C♯. He generally uses 0.12 gauge (light) strings on one EBG808 and 0.13 gauge (medium) strings on the second Maton EBG808 and on the TE1. This allows him to quickly change tuning by swapping between guitars during a show if needed, rather than spending time onstage retuning one guitar.

Emmanuel can often be seen curling his left-hand thumb around the neck of the guitar onto the fretboard to play certain notes rather than using only his fingers to play, contrary to how a classical guitarist would play, but usual for jazz and country guitarists. He frequently plays common three-finger chord shapes with just two fingers. He commonly uses a thumbpick, a flat pick (plectrum), his fingers or a combination of these in his playing, a style known as hybrid picking. Amongst his trademark rapid virtuosic licks and cascading harmonic progressions, he can also often be seen using a technique which imitates an electric guitar's vibrato system on his acoustic guitars; by pressing the palm of his right hand against the sound board of the guitar near the neck joint, while maintaining forward pressure with his left hand on the top of the headstock, the guitar neck slightly bends away from the body and consequently affects the pitch of the strings to achieve the desired sound.
Major Influences
As a young man in Australia, Emmanuel wrote to his hero Chet Atkins in Nashville, Tennessee. Eventually Atkins replied with words of encouragement and a longstanding invitation to drop by to visit.In 1997, Emmanuel and Atkins recorded as a duo and released the album The Day Finger Pickers Took Over The World, which was also to be Atkins' last recorded album before he died. Emmanuel and Atkins appeared together on The Nashville Network's 'County Christmas' in late 1997 and on that occasion Atkins stated about him: "He is one of the greatest guitar players I've ever seen."Atkins gave Emmanuel the guitar on which Arthur "Guitar Boogie" Smith recorded "Guitar Boogie", one of the foundation performances of the blues guitar world, and a regular feature of Emmanuel's shows.In July 1999, at the 15th Annual Chet Atkins Appreciation Society Convention, Atkins presented Emmanuel with a Certified Guitar Player award, an honor Chet personally bestowed to only four guitarists. This award gains its fame from being bestowed by Atkins himself, a widely recognized leader in guitar music. The award states: "In Recognition of His Contributions to the Art of Fingerpicking." Tommy performs at the Chet Atkins Appreciation Society (CAAS) in July each year in Nashville.

In addition to being influenced by Chet Atkins, Emmanuel has stated that guitarist Hank Marvin was his mentor.
References
Wikipedia – en.wikipedia.org/wiki/Tommy_Emmanuel

Video – www.youtube.com/watch?v=E3F9bzeCgTQ www.youtube.com/watch?v=0x9GioWRT6g www.youtube.com/watch?v=RI-sMNpQYHQ

Images – theoriginalvangoghsearanthology.com www.tamworthragepage.com www.theguitarjournal.com www.premierguitar.com
---
Guitarist #9 . . .
March 2016
John Williams
" . . . perhaps the most technically accomplished guitarist the world has seen." : Graham Wade – guitar historian
Synopsis
John Christopher Williams (born 24 April 1941) is an Australian-born British classical guitarist renowned for his ensemble playing as well as his interpretation and promotion of the modern classical guitar repertoire. In 1973, he shared a Grammy Award in the Best Chamber Music Performance category with fellow guitarist Julian Bream for Julian and John (Works by Lawes, Carulli, Albéniz, Granados). Williams is noted for a technique that is often described as virtually flawless. Guitar historian Graham Wade has said: "John is perhaps the most technically accomplished guitarist the world has seen."
Biography
John Williams was born on 24 April 1941 in Melbourne, Australia, to an English father, Len Williams, who later founded the London Guitar School, and Malaan (née Ah Ket), a daughter of Melbourne barrister William Ah Ket. In 1952, the family moved to England where he attended Friern Barnet Grammar School, London. Williams was initially taught guitar by his father, who was an accomplished guitarist. From the age of 11, Williams attended summer courses with Andrés Segovia at the Accademia Musicale Chigiana in Siena, Italy. Later, he attended the Royal College of Music in London, from 1956 to 1959, studying piano because the college did not have a guitar department at the time. Upon graduation, he was offered the opportunity to create such a department. He took the opportunity and ran the department for its first two years. Williams has maintained links with the college (and with the Royal Northern College of Music in Manchester) ever since.
Classical guitarist
Williams' first professional performance was at the Wigmore Hall in London on 6 November 1958. Since then, he has been performing throughout the world and has made regular appearances on radio and TV. He has extended the repertoire by commissioning guitar concertos from composers such as Stephen Dodgson, André Previn, Patrick Gowers, Richard Harvey and Steve Gray. Williams has recorded albums of duets with fellow guitarists Julian Bream and Paco Peña.
John Williams

. . . with Julian Bream
Williams is a visiting professor and honorary member of the Royal Academy of Music in London.
Williams mostly uses Greg Smallman guitars, after using Spanish Fleta during the 1970s. He also plays a guitar by Paulino Bernabe II.
Thoughts on guitar education and teaching
Williams has expressed his frustration and concern with guitar education and teaching, if it is too one-sided, e.g. focusing only on solo playing, instead of giving guitar students a better education including ensemble playing, sight-reading and a focus on phrasing and tone production and variation. Williams notes that "students [are] preoccupied with fingerings and not notes, much less sounds"; some are able "to play […] difficult solo works from memory", but "have a very poor sense of ensemble [playing] or timing". He notes that students play works from the solo repertoire that are often too difficult, so that the teachers often put more "emphasis […] on getting through the notes rather than playing the real substance of each note". To encourage phrasing, tone production and all-around musicianship, Williams arranges for students to play together in ensembles, choosing works from the existing classical music repertoire, such as the "easier Haydn String Quartets".
Other musical genres
SKY

Playing electric guitar
Although Williams is best known as a classical guitarist, he has explored many different musical genres. Between 1978 and 1984 he was a member of the fusion group Sky. He is also a composer and arranger. At the invitation of producer Martin Lewis he created a highly acclaimed classical-rock fusion duet with celebrated rock guitarist Pete Townshend of The Who on Townshend's anthemic "Won't Get Fooled Again" for the 1979 Amnesty International benefit show The Secret Policeman's Ball. The duet featured on the resulting album and the film version of the show – bringing Williams to the broader attention of the rock audience.

Williams recorded "Cavatina" by Stanley Myers. The piece originally included only the first few measures but, at Williams' request, it was rewritten for guitar and expanded by Myers. After this transformation it was used for a film, The Walking Stick (1970). In 1973, Cleo Laine wrote lyrics and recorded it as the song "He Was Beautiful" accompanied by Williams. The guitar version became a worldwide hit single when it was used as the theme tune to the Oscar-winning film The Deer Hunter (1978).

In 2006 John recorded a live album, "Places Between" with jazz guitarist,John Etheridge (ex Soft Machine), and followed it up with an Australasian tour, including Auckland's Town Hall.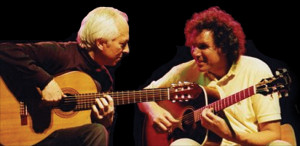 "Places Between" with John Etheridge
Personal life
Williams and his third wife, Kathy, reside in London and Australia. He has a daughter Kate, now an established jazz pianist
---
Guitarist #8 . . .
February 2016
A particular favourite of mine. . .
Jeff Beck
Beck's Bolero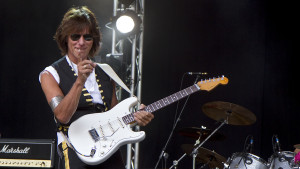 Synopsis
Geoffrey Arnold "Jeff" Beck (born 24 June 1944) is an English rock guitarist. He is one of the three noted guitarists to have played with The Yardbirds (the other two being Eric Clapton and Jimmy Page). Beck also formed The Jeff Beck Group and Beck, Bogert, Appice.

Much of Beck's recorded output has been instrumental, with a focus on innovative sound, and his releases have spanned genres ranging from blues rock, hard rock, jazz fusion, and an additional blend of guitar-rock and electronica. Although he recorded two hit albums (in 1975 and 1976) as a solo act, Beck has not established or maintained the sustained commercial success of many of his contemporaries and bandmates. Beck appears on albums by Mick Jagger, Tina Turner, Morrissey, Jon Bon Jovi, Malcolm McLaren, Kate Bush, Roger Waters, Donovan, Stevie Wonder, Les Paul, Zucchero, Cyndi Lauper, Brian May, Stanley Clarke and ZZ Top.

He was ranked fifth in Rolling Stone's list of the "100 Greatest Guitarists of All Time" and the magazine, upon whose cover Beck has appeared three times, has described him as "one of the most influential lead guitarists in rock". He is often called a "guitarist's guitarist". Beck has earned wide critical praise and received the Grammy Award for Best Rock Instrumental Performance six times and Best Pop Instrumental Performance once. In 2014 he received the British Academy's Ivor Novello Award for Outstanding Contribution to British Music. Beck has been inducted into the Rock and Roll Hall of Fame twice: as a member of the Yardbirds (1992) and as a solo artist (2009).
Early life
"I was interested in the electric guitar even before I knew the difference between electric and acoustic. The electric guitar seemed to be a totally fascinating plank of wood with knobs and switches on it. I just had to have one."
Geoffrey Arnold Beck was born on 24 June 1944 to Arnold and Ethel Beck at 206 Demesne Road, Wallington, England. As a 10-year-old, Beck sang in a church choir. As a teenager he learned to play a borrowed guitar and made several attempts to build his own instrument, first by gluing and bolting together cigar boxes for the body and an unsanded fence-post for the neck with model aircraft control-lines and frets simply painted on. When fabricating a neck for his next try he attempted to use measurements for a bass guitar.
Beck has cited Les Paul as the first electric guitar player who impressed him. Beck has said that he first heard an electric guitar when he was 6 years old and heard Paul playing "How High the Moon" on the radio. He asked his mother what it was. After she replied it was an electric guitar and was all tricks, he said, "That's for me". Cliff Gallup, lead guitarist with Gene Vincent and the Blue Caps, was also an early musical influence, followed by B.B. King and Steve Cropper.
Upon leaving school he attended Wimbledon College of Art, after which he was briefly employed as a painter and decorator, a groundsman on a golf course and a car paint-sprayer. Beck's sister Annetta introduced him to Jimmy Page when both were teenagers.
Career
1960s
Beck began his career in the early 1960s. Drifting from one group to another, he would play eight or nine gigs and move on. He joined the Rumbles, a Croydon band, in 1963 for a short period as lead guitarist, playing Gene Vincent and Buddy Holly songs, displaying a talent for mimicking guitar styles. His first regular band was London-based R'n'B outfit The Night Shift (1963-1964) with whom he recorded his first single and also appeared at the 1963 and 1964 Richmond Jazz & Blues Festivals (later to become the Reading Rock Festival). Beck left Night Shift to join The Tridents in October 1964, a band from the Chiswick area. "They were really my scene because they were playing flat-out R&B, like Jimmy Reed stuff, and we supercharged it all up and made it really rocky. I got off on that, even though it was only twelve-bar blues." His first appearance on vinyl was as a session guitarist on a 1964 Parlophone single by the Fitz and Startz titled "I'm Not Running Away", with B-side "So Sweet".

In March 1965, Beck was recruited by The Yardbirds to succeed Eric Clapton on the recommendation of fellow session man Jimmy Page, who had been their initial choice. The Yardbirds recorded most of their Top 40 hit songs during Beck's short but significant 20-month tenure with the band allowing him only one full album, which became known as Roger the Engineer (titled Over Under Sideways Down in the United States), released in 1966. Beck was actually pictured on the cover of For Your Love, which was released by the Yardbirds' American label in June 1965, though Clapton played guitar on most of the songs. From September to November 1966, Beck shared lead guitar duties with Page in the Yardbirds, who initially joined as bass player in June that year. A clip of this iteration of the band can be seen in the 1966 British film Blow Up.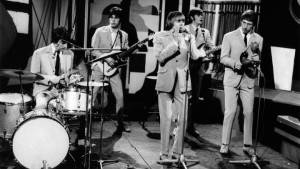 The Yardbirds
Beck was fired in the middle of a U.S. tour for being a consistent no-show—as well as difficulties caused by his perfectionism and explosive temper. After leaving the Yardbirds, Beck recorded the one-off "Beck's Bolero" (with Jimmy Page, John Paul Jones, Nicky Hopkins and Keith Moon) and two solo hit singles in the UK, "Hi Ho Silver Lining" and "Tallyman". He then formed the Jeff Beck Group, which briefly featured former Shadow Jet Harris on bass, Rod Stewart on vocals, Ronnie Wood firstly on rhythm guitar and later bass, Nicky Hopkins on piano and, after a series of drummers, eventually Micky Waller in early 1967.
The group produced two albums for Columbia Records (Epic in the United States): Truth (August 1968) and Beck-Ola (July 1969). Truth, released five months before the first Led Zeppelin album, features "You Shook Me", a song written and first recorded by Muddy Waters, also covered on the Led Zeppelin debut with a very similar arrangement. It sold well (reaching No. 15 on the Billboard charts). Beck-Ola saw drummer Micky Waller replaced by Tony Newman, and, while well-received, was less successful both commercially and critically. Resentment, coupled with touring incidents, led the group to dissolve in July 1969.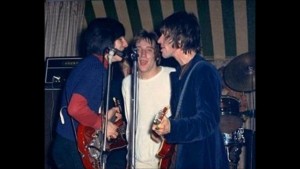 The Jeff Beck Group with Rod Stewart
In his autobiography, Nick Mason recalls that during 1967 Pink Floyd had wanted to recruit Beck to be its guitarist after the departure of Syd Barrett but "None of us had the nerve to ask him." In 1969, following the death of Brian Jones, Beck was approached about joining the Rolling Stones.
After the break-up of his group, Beck took part in the Music from Free Creek "super session" project, billed as "A.N. Other" and contributed lead guitar on four songs, including one co-written by him. In September 1969, he teamed with the rhythm section of Vanilla Fudge: bassist Tim Bogert and drummer Carmine Appice (when they were in England to resolve contractual issues), but when Beck fractured his skull in a car accident near Maidstone in December the plan was postponed for two and a half years, during which time Bogert and Appice formed Cactus.
"Everyone thinks of the 1960s as something they really weren't. It was the frustration period of my life. The electronic equipment just wasn't up to the sounds I had in my head."
1970s
In 1970, when Beck had regained his health, he set about forming a band with drummer Cozy Powell. Beck, Powell and producer Mickie Most flew to the United States and recorded several tracks at Motown's famed Studio A in Hitsville U.S.A. with the Funk Brothers, Motown's in-house band, but the results remained unreleased. By April 1971 Beck had completed the line-up of this new group with guitarist/vocalist Bobby Tench, keyboard player Max Middleton and bassist Clive Chaman. The new band performed as "the Jeff Beck Group" but had a substantially different sound from the first line-up.
Rough and Ready (October 1971), the first album they recorded, on which Beck wrote or co-wrote six of the album's seven tracks (the exception being written by Middleton), included elements of soul, rhythm-and-blues and jazz, foreshadowing the direction Beck's music would take later in the decade.
A second album Jeff Beck Group (July 1972) was recorded at TMI studios in Memphis, Tennessee with the same personnel. Beck employed Steve Cropper as producer and the album displayed a strong soul influence, five of the nine tracks being covers of songs by American artists. One, "I Got to Have a Song", was the first of four Stevie Wonder compositions covered by Beck. Shortly after the release of the Jeff Beck Group album, the band was dissolved and Beck's management put out the statement that: "The fusion of the musical styles of the various members has been successful within the terms of individual musicians, but they didn't feel it had led to the creation of a new musical style with the strength they had originally sought."
Beck then started collaborating with bassist Tim Bogert and drummer Carmine Appice, who became available following the demise of Cactus but continued touring as the Jeff Beck Group in August 1972, to fulfill contractual obligations with his promoter, with a line-up including Bogert, Appice, Max Middleton and vocalist Kim Milford. After six appearances Milford was replaced by Bobby Tench, who was flown in from the UK for the Arie Crown Theatre Chicago performance and the rest of the tour, which concluded at the Paramount North West Theatre, Seattle. After the tour Tench and Middleton left the band and the power trio Beck, Bogert, Appice appeared: Appice took on the role of vocalist with Bogert and Beck contributing occasionally. They were included on the bill for Rock at The Oval in September 1972, still as "the Jeff Beck Group," which marked the start of a tour schedule of UK, the Netherlands and Germany. Another U.S. tour began in October 1972, starting at the Hollywood Sportatorium Florida and concluding on 11 November 1972 at The Warehouse, New Orleans. In April 1973 the album Beck, Bogert, Appice was released (on Epic Records). While critics acknowledged the band's instrumental prowess the album was not commercially well received except for its cover of Stevie Wonder's hit "Superstition".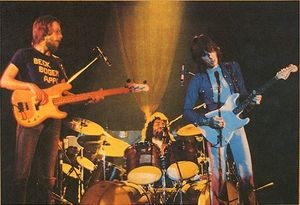 Beck,Bogert, Appice
On 3 July 1973 Beck joined David Bowie onstage to perform "The Jean Genie"/"Love Me Do" and "Around and Around." The show was recorded and filmed, but none of the released editions included Beck. During October 1973 Beck recorded tracks for Michael Fennelly's album Lane Changer and attended sessions with Hummingbird, a band derived from the Jeff Beck Group, but did not to contribute to their eponymous first album.
Early in January 1974 Beck, Bogert, Appice played at the Rainbow Theatre, as part of a European tour. The concert was broadcast in full on the US show Rock Around the World in September of the same year. This last recorded work by the band previewed material intended for a second studio album, included on the bootleg At Last Rainbow. The tracks "Blues Deluxe" and "BBA Boogie" from this concert were later included on the Jeff Beck compilation Beckology (1991). Beck, Bogert & Appice dissolved in April 1974 before their second studio album (produced by Jimmy Miller) was finished. Their live album Beck, Bogert & Appice Live in Japan, recorded during their 1973 tour of Japan, was not released until February 1975 by Epic/Sony.
After a few months Beck entered Underhill Studio and met with the group Upp, whom he recruited as backing band for his appearance on the BBC TV programme Guitar Workshop in August 1974. Beck produced and played on their self-titled debut album and their second album This Way Upp, though his contributions to the second album went uncredited. In October Beck began to record instrumentals at AIR Studios with Max Middleton, bassist Phil Chen and drummer Richard Bailey, using George Martin as producer and arranger.
Jeff Beck's solo album Blow by Blow (March 1975) evolved from these sessions and showcased Beck's technical prowess in jazz-rock. The album reached number four in the charts and is Beck's most commercially successful release. Beck, fastidious about overdubs and often dissatisfied with his solos, often returned to AIR Studios until he was satisfied. A couple of months after the sessions had finished producer George Martin received a telephone call from Beck, who wanted to record a solo section again. Bemused, Martin replied: "I'm sorry, Jeff, but the record is in the shops!"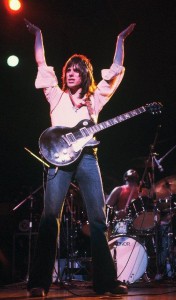 Beck playing a Gibson for a harder sound on "Blow by Blow"
Beck put together a live band for a US tour, preceded by a small and unannounced gig at The Newlands Tavern in Peckham, London. He toured through April and May 1975, mostly supporting the Mahavishnu Orchestra, retaining Max Middleton on keyboards but with a new rhythm section of bassist Wilbur Bascomb and noted session drummer Bernard "Pretty" Purdie. In a May 1975 show in Cleveland, Ohio (Music Hall), he became frustrated with an early version of a talk box he used on his arrangement of the Beatles' "She's a Woman", and after breaking a string, tossed his legendary Yardbirds-era Stratocaster guitar off the stage. He did the same with the talk box and finished the show playing a Les Paul and without the box. During this tour he performed at Yuya Uchida's "World Rock Festival", playing a total of eight songs with Purdie. In addition he performed a guitar and drum instrumental with Johnny Yoshinaga and, at the end of the festival, joined in a live jam with bassist Felix Pappalardi of Mountain and vocalist Akira "Joe" Yamanaka from the Flower Travellin' Band. Only his set with Purdie was recorded and released.
He returned to the studio and recorded Wired (1976), which paired ex-Mahavishnu Orchestra drummer and composer Narada Michael Walden and keyboardist Jan Hammer. The album used a jazz-rock fusion style, which sounded similar to the work of his two collaborators. To promote the album, Beck joined forces with the Jan Hammer Group, playing a show supporting Alvin Lee at The Roundhouse in May 1976, before embarking on a seven-month-long world tour. This resulted in the live album Jeff Beck with the Jan Hammer Group Live (1977).
At this point, Beck was a tax exile and took up residency in the US, remaining there until his return to the UK in the autumn of 1977. In the spring of 1978, he began rehearsing with ex-Return to Forever bassist Stanley Clarke and drummer Gerry Brown towards a projected appearance at the Knebworth Festival, but this was cancelled after Brown dropped out. Beck toured Japan for three weeks in November 1978 with an ad-hoc group consisting of Clarke and newcomers Tony Hymas (keyboards) and Simon Phillips (drums) from Jack Bruce's band. Work then began on a new studio album at the Who's Ramport Studios in London and continued sporadically throughout 1979, resulting in There & Back in June 1980. It featured three tracks composed and recorded with Jan Hammer, while five were written with Hymas. Stanley Clarke was replaced by Mo Foster on bass, both on the album and the subsequent tours. Its release was followed by extensive touring in the USA, Japan and the UK.
1980s
In 1981 Beck made a series of historic live appearances with his Yardbirds predecessor Eric Clapton at the Amnesty International-sponsored benefit concerts dubbed The Secret Policeman's Other Ball shows. He appeared with Clapton on "Crossroads", "Further on up the Road", and his own arrangement of Stevie Wonder's "Cause We've Ended As Lovers". Beck also featured prominently in an all-star band finale performance of "I Shall Be Released" with Clapton, Sting, Phil Collins, Donovan and Bob Geldof. Beck's contributions were seen and heard in the resulting album and film, both of which achieved worldwide success in 1982. Another benefit show, the ARMS Concert for Multiple Sclerosis featured a jam with Beck, Eric Clapton and Jimmy Page. They performed "Tulsa Time" and "Layla". In 1985 Beck released Flash, featuring a variety of vocalists, but most notably former bandmate Rod Stewart on a rendition of Curtis Mayfield's "People Get Ready". At Stewart's induction to the Rock and Roll Hall of Fame in 1992, Beck gave the induction speech, saying of Stewart, "We have a love hate relationship – he loves me and I hate him." During this period, Beck made several guest appearances with other performers, including the movie Twins, where he played guitar with singer Nicolette Larson.
After a four-year break, Jeff made a return to instrumental music with the album Jeff Beck's Guitar Shop (1989), the first album to feature Beck as a fingerstyle guitarist, leaving the plectrum playing style. It was only his 3rd album to be released in the 1980s. Much of Beck's sparse and sporadic recording schedule was due in part to a long battle with noise-induced tinnitus.
1990s
In the 1990s, Beck had a higher musical output. He is featured on lead guitar on Roger Waters' 1992 concept album Amused to Death, and on Kate Bush's 1993 album The Red Shoes.
He recorded the instrumental soundtrack album Frankie's House (1992), as well as Crazy Legs (1993), a tribute album to 1950s rockabilly group Gene Vincent and the Blue Caps and their influential guitarist Cliff Gallup.
Beck rehearsed with Guns N' Roses for their concert in Paris in 1992, but did not play in the actual concert due to ear damage caused by a Matt Sorum cymbal crash, causing Beck to become temporarily deaf. The Yardbirds were inducted into the Rock and Roll Hall of Fame in 1992. In Beck's acceptance speech he humorously noted that " Someone told me I should be proud tonight … But I'm not, because they kicked me out. … They did … Fuck them! "
He accompanied Paul Rodgers of Bad Company on the album Muddy Water Blues: A Tribute to Muddy Waters in 1993. Jeff's next release would not be until 1999, his first foray into guitar based electronica, Who Else!. The album also marked Beck's first collaboration with a female musician, Jennifer Batten, in touring, writing, and recording as well as the first time he had worked with another guitarist on his own material since playing in the Yardbirds. Beck continued to work with Batten through the post-release tour of You Had It Coming in 2001.
2000s
Jeff Beck won his third Grammy Award, this one for 'Best Rock Instrumental Performance' for the track "Dirty Mind" from You Had It Coming (2001).
The song "Plan B" from the 2003 release Jeff, earned Beck his fourth Grammy Award for Best Rock Instrumental Performance, and was proof that the new electro-guitar style he used for the two earlier albums would continue to dominate. Jeff Beck was the opening act for B.B. King in the summer of 2003 and appeared at Eric Clapton's Crossroads Guitar Festival in 2004.
In 2007, he accompanied Kelly Clarkson for her cover of Patty Griffin's "Up to the Mountain", during the Idol Gives Back episode of American Idol. The performance was recorded live and afterwards was immediately released for sale. In the same year, he appeared once again at Clapton's Crossroads Guitar Festival, performing with Vinnie Colaiuta, Jason Rebello, and the then 21-year-old bassist Tal Wilkenfeld.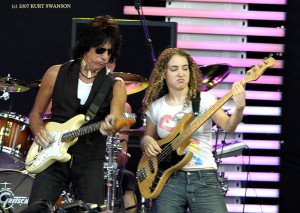 On stage with Tal Wilkenfield
Beck announced a world tour in early 2009 and remained faithful to the same lineup of musicians as in his tour two years before, playing and recording at Ronnie Scott's in London to a sold out audience. Beck played on the song "Black Cloud" on the 2009 Morrissey album Years of Refusal and later that year, Harvey Goldsmith became Beck's Manager.
Beck was inducted into the Rock and Roll Hall of Fame on 4 April 2009, as a solo artist. The award was presented by Jimmy Page. Beck performed "Train Kept A-Rollin'" along with Page, Ronnie Wood, Joe Perry, Flea, and Metallica members James Hetfield, Robert Trujillo, Lars Ulrich, Kirk Hammett and Jason Newsted.
On 4 July 2009, David Gilmour joined Beck onstage at the Albert Hall. Beck and Gilmour traded solos on "Jerusalem" and closed the show with "Hi Ho Silver Lining".
2010s
Beck's recent album, Emotion & Commotion, was released in April 2010. It features a mixture of original songs and covers such as "Over the Rainbow" and "Nessun Dorma". Joss Stone and Imelda May provided some of the guest vocals. Two tracks from Emotion & Commotion won Grammy Awards in 2011: "Nessun Dorma" won the Grammy Award for Best Pop Instrumental Performance, and "Hammerhead" won the Grammy Award for Best Rock Instrumental Performance. Beck collaborated on "Imagine" for the 2010 Herbie Hancock album, The Imagine Project along with Seal, P!nk, India.Arie, Konono N°1, Oumou Sangare and others and received a third Grammy in 2011 for Best Pop Collaboration with Vocals for the track.
Beck's 2010 World Tour band featured Grammy-winning musician Narada Michael Walden on drums, Rhonda Smith on bass and Jason Rebello on keyboards. He has also released a live album titled Live and Exclusive from the Grammy Museum on 25 October 2010. On 9 June 2010, Beck with Imelda May's band recorded a DVD of a concert at the Iridium in NYC featuring several Les Paul songs with Ms May doing the Mary Ford vocals.
In 2011, Beck received two honorary degrees from British universities. On 18 July 2011, he was honoured with a fellowship from University of the Arts London in recognition of his "outstanding contribution to the field of Music". He was also presented with an honorary doctorate from University of Sussex by Sanjeev Bhaskar, the university's chancellor for "an outstanding musical career and celebrated the relationship between the university and the Brighton Institute of Modern Music (BIMM)" on 21 July 2011.
In 2013, it was announced that he will be performing on Beach Boys founder Brian Wilson's new solo album (alongside Beach Boys Al Jardine and David Marks) on Capitol Records. On 20 June, Wilson's website announced that the material might be split into three albums; one of new pop songs, another of mostly instrumental tracks with Beck, and another of interwoven tracks dubbed "the suite". Beck also accompanied Wilson (along with Jardine and Marks) on an eighteen date fall 2013 tour starting in late September and ending in late October. According to Beck pre-tour: "Brian will kick things off, but I'll also be given enough time to establish what I'm about. In the end, we'll mix and match. It's a complete honour to be on stage with him."
In 2014, to mark the beginning of Jeff's World Tour in Japan, a three-track CD titled Yosogai was released on April 5; the album had yet to be finalized at the time of the tour. In November 2014 he accompanied Joss Stone at The Royal British Legion's Festival of Remembrance at the Royal Albert Hall.
Style and influence
One of the most influential guitarists in the history of rock music, Jeff Beck has cited his major influences as Les Paul, the Shadows, Cliff Gallup, Ravi Shankar, Roy Buchanan, Chet Atkins, Django Reinhardt, Steve Cropper and Lonnie Mack. Of John McLaughlin, he said: "[he] has given us so many different facets of the guitar and introduced thousands of us to world music, by blending Indian music with jazz and classical. I'd say he was the best guitarist alive."
While Beck was not the first rock guitarist to experiment with electronic distortion, he nonetheless helped to redefine the sound and role of the electric guitar in rock music. Beck's work with the Yardbirds and the Jeff Beck Group's 1968 album Truth were seminal influences on heavy metal music, which emerged in full force in the early 1970s.
Beck was ranked No. 5 in Rolling Stone's list of the "100 Greatest Guitarists".
Technique and equipment
In the early years unwound G strings were not available, so Beck would substitute a banjo string to avoid "slide shriek". He stopped regular use of a pick (plectrum) in the 1980s. He produces a wide variety of sounds by using his fingers and the vibrato bar on his signature Fender Stratocaster, and he frequently uses a wah-wah pedal both live and in the studio. Eric Clapton once said, "With Jeff, it's all in his hands".

Along with Fender Stratocasters, Beck occasionally plays Fender Telecaster and Gibson Les Paul models as well. His amplifiers are primarily Fender and Marshall. In his earlier days with the Yardbirds, Beck also used a 1954 Fender Esquire guitar (now owned by Seymour W. Duncan, and housed in the Cleveland Rock and Roll Hall of Fame) through Vox AC30s. He has also played through a variety of fuzz pedals and echo units along with this set-up and has used the Pro Co RAT distortion pedal. The Seymour Duncan JB model's name is an acronym for both Jazz & Blues and Jeff Beck, as it was designed in conjunction with the guitarist.

During the ARMS Charity Concerts in 1983 Beck used his battered Fender Esquire along with a 1954 Fender Stratocaster and a Jackson Soloist. On Crazy Legs (1993) he played a Gretsch Duo Jet, his signature Fender Stratocaster and various other guitars. In 2007, Fender created a Custom Shop Tribute series version of his beat-up Fender Esquire as well as his Artist Signature series Stratocaster.
Beck's Custom Shop Tribute Telecaster & Signature Strat
Personal life
Beck has been married to Sandra Beck since 2005 and has been a vegetarian since 1969. He is a Patron of the Folly Wildlife Rescue Trust. He has an interest in classic Ford hot rods, performing much of the work on the exteriors and engines of the cars by himself. Beck has a house near Wadhurst, East Sussex.
---
Guitarist #7 . . .
January 2016
Chet Atkins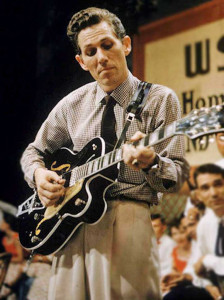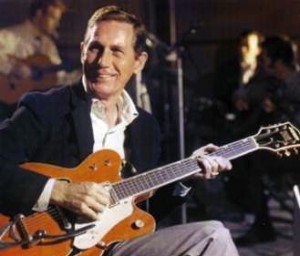 Chester Burton "Chet" Atkins (June 20, 1924 – June 30, 2001) was an American musician, occasional vocalist, songwriter and record producer who, along with Owen Bradley and Bob Ferguson, amongst others created the smoother country music style that came to be known as the Nashville sound, which expanded country's appeal to adult pop music fans as well. He was primarily known as a guitarist, but also played the fiddle and banjo and earlier the ukulele.
Atkins' signature picking style was inspired by Merle Travis. Other major guitar influences were Django Reinhardt, George Barnes, Les Paul and later Jerry Reed. His trademark picking style and musicianship brought him admirers within and outside the country scene, both in the United States and internationally. Atkins spent most of his career at RCA Victor and produced records for The Browns, Hank Snow, Porter Wagoner, Norma Jean, Dolly Parton, Dottie West, Perry Como, Elvis Presley, The Everly Brothers, Eddy Arnold, Don Gibson, Jim Reeves, Jerry Reed, Skeeter Davis, Waylon Jennings and many others.
Among many honours, Atkins received 14 Grammy Awards as well as the Grammy Lifetime Achievement Award, nine Country Music Association Instrumentalist of the Year awards, and was inducted into the Rock & Roll Hall of Fame, Country Music Hall of Fame and Museum and the Musicians Hall of Fame and Museum.
Childhood and early life
Chet Atkins was born on June 20, 1924, in Luttrell, Tennessee, near Clinch Mountain. His parents divorced when he was six, after which he was raised by his mother. He was the youngest of three boys and a girl. He started out on the ukulele, later moving on to the fiddle, but traded his brother Lowell an old pistol and some chores for a guitar when he was nine. He stated in his 1974 autobiography, "We were so poor and everybody around us was so poor that it was the forties before anyone even knew there had been a depression." Forced to relocate to Fortson, Georgia, to live with his father because of a critical asthma condition, Atkins was a sensitive youth who made music his obsession. Because of his illness, he was forced to sleep in a straight-back chair in order to breathe comfortably. On those nights, he would play his guitar until he fell asleep holding it, a habit which lasted his whole life. Stories have been told about the very young Chet, who, when a friend or relative would come to visit and play guitar, would crowd in and put his ear so very close to the instrument that it became difficult for that person to play.

Atkins became an accomplished guitarist while he was in high school. He would use the restroom in the school to practice, because it gave better acoustics. His first guitar had a nail for a nut and was so bowed that only the first few frets could be used. He later purchased a semi-acoustic electric guitar and amp, but he had to travel many miles to find an electrical outlet since his home had no electricity.

Atkins did not have a strong style of his own until 1939 when (while still living in Georgia) he heard Merle Travis picking over WLW radio. This early influence dramatically shaped his unique playing style. Whereas Travis's right hand used his index finger for the melody and thumb for bass notes, Atkins expanded his right hand style to include picking with his first three fingers, with the thumb on bass.
Early musical career
After dropping out of high school in 1942, Atkins landed a job at WNOX-AM radio in Knoxville. There he played fiddle and guitar with singer Bill Carlisle and comic Archie Campbell as well as becoming a member of the station's Dixieland Swingsters, a small swing instrumental combo. After three years, he moved to WLW-AM in Cincinnati, Ohio, where Merle Travis had formerly worked.

After six months he moved to Raleigh and worked with Johnnie and Jack before heading for Richmond, Virginia, where he performed with Sunshine Sue Workman. Atkins' shy personality worked against him, as did the fact that his sophisticated style led many to doubt he was truly "country." He was fired often but was soon able to land another job at another radio station due to his unique playing ability. Atkins and Jethro Burns of Homer and Jethro married twin sisters, Leona and Lois Johnson, who sang as Laverne and Fern Johnson: the Johnson Sisters. Leona Atkins outlived Atkins by eight years, dying in 2009 at the age of 85.

Traveling to Chicago, Atkins auditioned for Red Foley, who was leaving his star position on WLS-AM's National Barn Dance to join the Grand Ole Opry. Atkins made his first appearance at the Opry in 1946 as a member of Foley's band. He also recorded a single for Nashville-based Bullet Records that year. That single, "Guitar Blues", was fairly progressive, including as it did, a clarinet solo by Nashville dance band musician Dutch McMillan with Owen Bradley on piano. He had a solo spot on the Opry; but when that was cut, Atkins moved on to KWTO in Springfield, Missouri. Despite the support of executive Si Siman, however, he soon was fired for not sounding "country enough."
Signing with RCA Victor
While working with a Western band in Denver, Colorado, Atkins came to the attention of RCA Victor. Siman had been encouraging Steve Sholes to sign Atkins, as his style (with the success of Merle Travis as a hit recording artist) was suddenly in vogue. Sholes, A&R director of country music at RCA, tracked Atkins down to Denver.

He made his first RCA Victor recordings in Chicago in 1947. They did not sell. He did some studio work for RCA that year but had relocated to Knoxville again where he worked with Homer and Jethro on WNOX's new Saturday night radio show The Tennessee Barn Dance and the popular Midday Merry Go Round.

In 1949 he left WNOX to join June Carter with Mother Maybelle & The Carter Sisters back on KWTO. This incarnation of the old Carter Family featured Maybelle Carter and daughters June, Helen and Anita. Their work soon attracted attention from the Grand Ole Opry. The group relocated to Nashville in mid-1950. Atkins began working on recording sessions, performing on WSM-AM and the Opry. Atkins became a member of The Opry in the 1950s.

While he had not yet had a hit record on RCA Victor his stature was growing. He began assisting Sholes as a Session Leader when the New York–based producer needed help organizing Nashville sessions for RCA Victor artists. Atkins's first hit single was "Mr. Sandman", followed by "Silver Bell", which he did as a duet with Hank Snow. His albums also became more popular, and he was featured on ABC-TV's The Eddy Arnold Show during the summer of 1956; as well as on Country Music Jubilee in 1957 and '58 (by then renamed Jubilee USA).

In addition to recording, Atkins was a design consultant for Gretsch, who manufactured a popular Chet Atkins line of electric guitars from 1955–1980.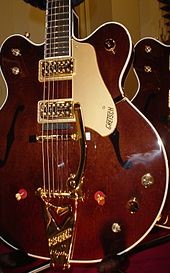 Atkins's Gretsch Country Gentleman, model G6122-1962
He became manager of RCA Victor's Nashville studio, eventually inspiring and seeing the completion of the legendary RCA Studio B, the first studio built specifically for the purpose of recording on the now-famous Music Row.
Performer and producer
When Sholes took over pop production in 1957—a result of his success with Elvis Presley—he put Atkins in charge of RCA Victor's Nashville division. With country music record sales declining as rock and roll took over, Atkins and Bob Ferguson took their cue from Owen Bradley and eliminated fiddles and steel guitar as a means of making country singers appeal to pop fans. This became known as the Nashville sound which Atkins said was a label created by the media attached to a style of recording done during that period to keep country (and their jobs) viable.

Atkins used the Jordanaires and a rhythm section on hits like Jim Reeves' "Four Walls" and "He'll Have to Go" and Don Gibson's "Oh Lonesome Me" and "Blue Blue Day". The once rare phenomenon of having a country hit cross over to pop success became more common. He and Bradley had essentially put the producer in the driver's seat, guiding an artist's choice of material and the musical background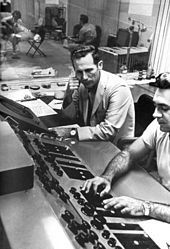 Atkins listening as Bill Porter adjusts a mix in RCA's Nashville studio
Atkins made his own records, which usually visited pop standards and jazz, in a sophisticated home studio, often recording the rhythm tracks at RCA but adding his solo parts at home, refining the tracks until the results satisfied him. Guitarists of all styles came to admire various Atkins albums for their unique musical ideas and in some cases experimental electronic ideas. In this period he became known internationally as "Mister Guitar", inspiring an album named Mister Guitar, engineered by both Bob Ferris and Bill Porter, Ferris's replacement.
At the end of March 1959, Porter took over as chief engineer at RCA's Nashville studio, in the space now known as "Studio B". (At the time there was only one RCA studio in Nashville, with no letter designation.) Porter soon helped Atkins get a better reverberation sound from the studio's German effects device, an EMT plate reverb. With his golden ear, Porter found the studio's acoustics to be problematic, and he devised a set of acoustic baffles to hang from the ceiling, then selected positions for microphones based on resonant room modes. The sound of the recordings improved significantly, and the studio achieved a string of successes. The Nashville sound became more dynamic. In later years, when Bradley asked how he achieved his sound, Atkins told him "it was Porter." Porter described Atkins as respectful of musicians when recording—if someone was out of tune he would not single that person out by name. Instead, he would say something like, "we got a little tuning problem … Everybody check and see what's going on." If that didn't work, Atkins would instruct Porter to turn the offending player down in the mix. When Porter left RCA in late 1964, Atkins said, "the sound was never the same, never as great."
Atkins's trademark "Atkins Style" of playing uses the thumb and first two—sometimes three fingers of the right hand. He developed this style from listening to Merle Travis occasionally on a primitive radio. He was sure no one could play that articulately with just the thumb and index finger (which was exactly how Travis played) and he assumed it required the thumb and two fingers—and that was the style he pioneered and mastered.
He enjoyed jamming with fellow studio musicians which led to them being asked to perform at the Newport Jazz Festival in 1960. Although that performance was cancelled due to rioting, a live recording of the group (After the Riot at Newport) was released. Atkins performed by invitation at the White House for presidents Kennedy through George H. W. Bush. Atkins was a member of the Million Dollar Band during the 1980s. He is also well known for his song "Yankee Doodle Dixie", in which he played "Yankee Doodle" and "Dixie" simultaneously, on the same guitar.
Before his mentor Sholes died in 1968, Atkins had become vice president of RCA's country division. In 1987 he told Nine-O-One Network Magazine that he was "ashamed" of his promotion: "I wanted to be known as a guitarist and I know, too, that they give you titles like that in lieu of money. So beware when they want to make you vice president." He had brought Waylon Jennings, Willie Nelson, Connie Smith, Bobby Bare, Dolly Parton, Jerry Reed and John Hartford to the label in the 1960s and inspired and helped countless others. He took a considerable risk during the mid-1960s, when the Civil Rights Movement sparked violence throughout the South by signing country music's first African-American singer Charley Pride, who sang rawer country than the smoother music Atkins had pioneered.
Atkins's own biggest hit single came in 1965, with "Yakety Axe", an adaptation of his friend saxophonist Boots Randolph's "Yakety Sax". He rarely performed in those days, and eventually had to hire other RCA producers like Bob Ferguson and Felton Jarvis to alleviate his workload.
Later career
In the 1970s, Atkins became increasingly stressed by his executive duties. He produced fewer records but could still turn out hits such as Perry Como's 1973 pop hit "And I Love You So". He recorded extensively with close friend and fellow picker Jerry Reed, who had become a hit artist in his own right. A 1973 diagnosis of colon cancer, however, led Atkins to redefine his role at RCA, to allow others to handle administration while he went back to his first love, the guitar, often recording with Reed or even Homer & Jethro's Jethro Burns (Atkins' brother-in-law) after Homer died in 1971.

By the late 1970s, RCA decided to remove Atkins from his producing duties and replace him with younger men. He also felt stifled because the record company would not let him branch into jazz. His mid-1970s collaborations with one of his influences, Les Paul, Chester & Lester and Guitar Monsters, had already reflected that interest; Chester & Lester was one of the best-selling recordings of Atkins's career. At the same time he grew dissatisfied with the direction Gretsch (no longer family-owned) was going and withdrew his authorization for them to use his name and began designing guitars with Gibson. Atkins ended his 35-year association with RCA in 1982 and signed with Columbia Records, for whom he produced a debut album in 1983.

Jazz had always been a strong love of his, and often in his career he was criticized by "pure" country musicians for his jazz influences. He also said on many occasions that he did not like being called a "country guitarist", insisting that he was a guitarist, period. Although he played 'by ear' and was a masterful improviser he was able to read music and even performed some classical guitar pieces. When Roger C. Field, a friend, suggested to him in 1991 that he record and perform with a female singer he did so with Suzy Bogguss.
Chet playing with Les Paul & with Mark Knopfler
He returned to his country roots for albums he recorded with Mark Knopfler and Jerry Reed. Knopfler had long mentioned Atkins as one of his earliest influences. Atkins also collaborated with Australian guitar legend Tommy Emmanuel. On being asked to name the ten most influential guitarists of the 20th century, he named Django Reinhardt to the first position, and also placed himself on the list.
In later years he even went back to radio, appearing on Garrison Keillor's Prairie Home Companion radio program, on American Public Media radio, even picking up a fiddle from time to time, and performing songs like Bob Wills' "Corrina, Corrina" and Willie Nelson's "Seven Spanish Angels" with Nelson on a 1985 broadcast of the show at the Bridges Auditorium on the campus of Pomona College (then Claremont College).
Death and legacy
Atkins received numerous awards, including 14 Grammy Awards and nine Country Music Association Instrumentalist of the Year awards. In 1993 he was honoured with the Grammy Lifetime Achievement Award. Billboard magazine awarded him their Century Award, their "highest honour for distinguished creative achievement", in December 1997.

Atkins is notable for his broad influence. His love for numerous styles of music can be traced from his early recording of stride-pianist James P. Johnson's "Johnson Rag," all the way to the rock stylings of Eric Johnson, an invited guest on Atkins's recording sessions who, when Chet attempted to copy his influential rocker "Cliffs of Dover," led to Atkins's creation of a unique arrangement of "Londonderry Air (Danny Boy)."

Chet's recordings of "Malagueña" inspired a new generation of Flamenco guitarists; the classical guitar selections included on almost all his albums were, for many American artists working in the field today, the first classical guitar they ever heard. He recorded smooth jazz guitar still played on American airwaves today.

Atkins continued performing in the 1990s, but his health declined after being diagnosed again with cancer in 1996. He died on June 30, 2001, at his home in Nashville, Tennessee, ten days after his 77th birthday. His memorial service was held at Ryman Auditorium in Nashville.

Atkins was buried at Harpeth Hills Memory Gardens in Nashville.

A stretch of Interstate 185 in southwest Georgia (between LaGrange and Columbus) is named "Chet Atkins Parkway". This stretch of interstate runs through Fortson, GA where Atkins spent much of his childhood.

In 2002, Atkins was posthumously inducted into the Rock and Roll Hall of Fame. His award was presented by Marty Stuart and Brian Setzer and accepted by Atkins's grandson, Jonathan Russell. The following year, Atkins ranked No.28 in CMT's 40 Greatest Men of Country Music.

At the age of 13, jazz guitarist Earl Klugh was captivated watching Atkins's guitar playing on The Perry Como Show. Similarly he was an extremely big influence on Doyle Dykes. Atkins also inspired Drexl Jonez and Tommy Emmanuel.

Clint Black's album "Nothin' but the Taillights" includes the song "Ode to Chet," which includes the lines "'Cause I can win her over like Romeo did Juliet, if I can only show her I can almost pick that legato lick like Chet" and "It'll take more than Mel Bay 1, 2, & 3 if I'm ever gonna play like CGP." Atkins plays guitar on the track. At the end of the song Black and Atkins have a brief conversation.

Chet's song Jam Man is currently used in commercials for Esurance.

The opening guitar licks to the Miranda Lambert song Only Prettier sound very similar to Chet Atkins's guitar picking style.

In 1967, a tribute song called "Chet's Tune" was produced for his birthday, with contributions by a long list of RCA/Victor artists including Eddy Arnold, Connie Smith, Jerry Reed, Willie Nelson, Hank Snow, and others. The song was written by Nashville songwriter Cy Coben, a friend of Atkins. The single reached No. 38 on the country charts.

In 2009, Steve Wariner released an album entitled My Tribute to Chet Atkins. One song from that record, "Producer's Medley", featured Wariner's recreation of several very famous songs which Chet Atkins both produced and performed on. In 2010, "Producer's Medley" won the Grammy for Best Country Instrumental Performance.

In November 2011, Rolling Stone ranked Atkins number 21 on its list of the 100 greatest guitarists of all time.
Chet Atkins – Fingerstyle Guitar Medley
---
So for June, lets feature a great contemporary Kiwi Guitarist,
Guitarist #6 . . .
Thomas Oliver
"He joins Leo Kotke, Ry Cooder and Michael Hedges as someone who has made buying a guitar album a must " Stuff.co.nz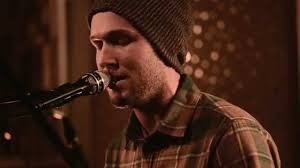 THOMAS OLIVER is internationally recognised as one of the leading players of the Weissenborn lap-steel guitar and a multi-talented guitarist, song writer and singer.
In 2013 Oliver released the first full-length, all instrumental, all Weissenborn album, titled "Beneath The Weissenborn". The album debuted at #6 in the NZ charts, received 5* reviews and sold out shows across the nation.
Oliver recently released 'International You Day', a tribute to Tony Sly from California punk band No Use For A Name, which gives us a sneak peak in to the recordings that Oliver is working on. Oliver says we can expect a deep and sonically rich impression, with organic instruments alongside loops and samples, and real and grounded lyrical messages.
With over half a million views on YouTube, he has developed an international audience from his home base in New Zealand that will saw him play shows in Australia and Europe in 2014.
Oliver's ability to write stirring lyrics and move between sweet melodic and grunty vocals has also earned him a reputation as a vocalist in Drum & Bass, having collaborated with some of the most respected producers, including Black Sun Empire, Rido and Concord Dawn, and boasting releases on prestigious labels, including Goldie's own Metalheadz.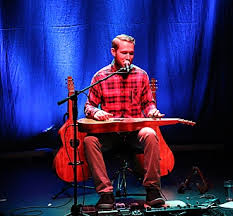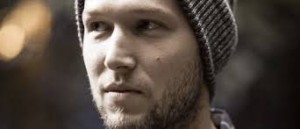 His previous band, The Thomas Oliver Band, released their debut LP in 2011 to critical acclaim, debuting at #12 in the New Zealand, #1 in the iTunes Blues Charts in NZ and Australia and won Best New Zealand Blues and Roots album.
Oliver has recently returned to NZ after playing shows in the UK and Europe in August and has had two live recorded videos released as part of the Aston Rd Sessions.
Info. from www.thomasoliver.co.nz
The Thomas Oliver Band – GOIN' HOME (Official Video)
Thomas Oliver – 'Born'
---
Guitarist #5 . . .
May 2015
B B King
http://www.bbking.com/film/
The King is Dead, long live the Blues !!
One of the last great Mississippi bluesmen, Riley B. King, is gone, passed away last night at the age of 89. King made perhaps the most successful crossover of any blues artist into mainstream rock and roll, recording with Clapton and playing for rock audiences for decades. But his sound remained rooted firmly in the very blues he cut his teeth on in the fields of the Mississippi Delta and in Memphis, where he hitchhiked at 22, with $3 in his pocket, and quickly became a hit as a songwriter and D.J. called the Beale Street Blues Boy—B.B. for short. He "was paid four cents," writes Buzzfeed, "for every album he made."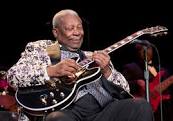 "By his 80th birthday," writes The New York Times, "he was a millionaire many times over. He owned a mansion in Las Vegas, a closet full of embroidered tuxedoes and smoking jackets, a chain of nightclubs…and the personal and professional satisfaction of having endured." King's signature guitars, customized Gibson 355s he named Lucille, are as elegant and stylish as the man himself. I once stood in front of one of them in a glass case at the Stax museum in Memphis, staring in awe, examining the places where his hands had worn into the wood, trying to absorb a little of the magic. King's story is one of success far beyond what most of his peers could imagine. But it is also one of profound dedication to the blues, and of overcoming racism, poverty, and pain—suffering he channeled into his music and never lost sight of through the wealth and fame.
Well-deserved tributes from fans and fellow musicians are everywhere today—to King's personal warmth and charm, to his impassioned singing, and, of course, his incredibly expressive vibrato guitar playing. "The tone he got out of that guitar, the way he shook his left wrist, the way he squeezed the strings," says guitarist Buddy Guy, "… man, he came out with that and it was all new to the whole guitar playin' world. The way BB did it is the way we all do it now. He was my friend and father to us all." See and hear B.B. do it above in live performances of "The Thrill is Gone" and "Blues Boys Tune." And just above, see him play and tell his story in a short 1972 documentary called "Sounding Out." It may be too late now to see the great man perform live, but it's never to late to learn about his legacy as the undisputed "king of the blues."
Related Content:
B.B. King Explains in an Animated Video Whether You Need to Endure Hardship to Play the Blues
Josh Jones is a writer and musician based in Durham, NC. Follow him at @jdmagness
---
Guitarist #4 . . .
April 2015
Jimmy Page
Jimmy Page was born January 9, 1944, in Heston, England. In 1965, he was asked to join the Yardbirds. In 1968 he formed a new band, renamed Led Zeppelin. The band toured the United States and released their first album, Led Zeppelin I, in 1969. Led Zeppelin soon developed a strong following. In addition to their recordings, Led Zeppelin was one of the most successful live acts of the 1970s.
The Yardbirds
Musician, songwriter, producer. Born James Patrick Page on January 9, 1944, in Heston, England. He was inspired by rock star Elvis Presley's "Baby Let's Play House" to take up the guitar at the age of 13. As a teenager, Page joined his first band, Neil Christian & the Crusaders. He toured with the group for a time, but he had to leave after suffering from a glandular fever.After a stint at art school, Page returned to music. He then became a session musician and a producer, working in England's thriving rock scene with such acts as the Rolling Stones, the Kinks, and the Who. In 1965, Page was asked to join the Yardbirds, a blues-influenced rock band, which had just scored a big hit with "For Your Love." The band wanted him to take over for Eric Clapton, who left the group for John Mayall's Bluebreakers. Page turned them down and recommended fellow session musician and legendary guitarist-in-the-making Jeff Beck. The Yardbirds sought out Page again the following year, and he finally agreed to become a band member.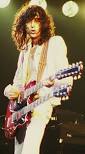 For a short period of time, the Yardbirds had two lead guitarists, Page and Beck. Beck left in late 1966 because ill health and a possible nervous breakdown. After Beck's departure, the Yardbirds released Little Games(1967), but they could not match their earlier success. The band fizzled out in 1968, and Page formed a new band to play some remaining Yardbirds concert dates. Initially calling themselves the New Yardbirds, the band consisted of John Paul Jones on bass and keyboards, John "Bonzo" Bonham on drums, and Robert Plant on lead vocals
Led Zeppelin
Quickly renaming themselves Led Zeppelin, the band toured the United States as the opening act for the American rock group Vanilla Fudge. They released their first album, Led Zeppelin I in 1969, which earned mixed reviews. As John Mendelsohn wrote in Rolling Stone magazine, "Jimmy Page, around whom the Zeppelin revolves, is, admittedly, an extraordinarily proficient blues guitarist and explorer of his instrument's electronic capabilities. Unfortunately, he is also a very limited producer and a writer of weak, unimaginative songs, and the Zeppelin album suffers from his having both produced it and written most of it (alone or in combination with his accomplices in the group)." While critics may not have been thrilled by their work, music fans enjoyed such tracks as the now classic "Dazed and Confused." Their songs showcased Page's skills as a musician, often featuring his intense guitar riffs.

Led Zeppelin soon developed a strong following. Music fans really enjoyed the band's hard rock and heavy metal sound. Their second album, the aptly titled Led Zeppelin II (1969), featured "Whole Lotta Love," "Ramble On," and "Heartbreaker." "Whole Lotta Love" reached the No. 4 spot on the pop charts, and the album reached the top of the charts by year's end. Again, Page worked behind the scenes, serving as producer for the recording. He also wrote or helped to write the music for many of the band's songs while Plant served as the group's main lyricist.

In 1970, Led Zeppelin released the more folk-influenced Led Zeppelin III. The single, "Immigrant Song," became the band's latest hit. Many critics saw the group's fourth album, however, as their best work. This 1971 untitled work is sometimes called the Runes Album for the symbols on the cover, which reflected Page's interest in the occult. The album offered listeners such songs as the legendary "Stairway to Heaven," which became one of most requested rock songs of all time despite its startling 8-minute length. "Black Dog" and "Rock and Roll" were other significant tracks from that album.

Band mate Bonham died at Page's house outside London in September 1980. Losing Bonham affected Page deeply—he couldn't play music for months after the incident. The rest of the band had similar feelings, and they decided that Led Zeppelin could not continue without Bonham.

Page reunited with John Paul Jones and Robert Plant in 1985 to play the international benefit concert Live Aid. They were joined on stage by drummers Tony Thompson and Phil Collins. They played together again in 1988 for the special concert held in honor of Atlantic Records 25th anniversary. This time, however, Jason Bonham, son of the late John Bonham, filled in on drums.

That same year, Page released his solo debut, Outrider, which featured Robert Plant and drummer Jason Bonham. He returned the favor by working on Plant's own effort, Now and Zen. Page's next album was a collaboration with former Whitesnake and Deep Purple vocalist David Coverdale.Coverdale/Page was released in 1993 to little notice.

In 1994, Page reunited with Plant for No Quarter: Jimmy Page and Robert Plant Unledded to recreate Led Zeppelin classics as acoustic works. They also recorded a few new songs for this project, which consisted of a television special and an album. The pair also went on tour together in 1995. That same year, Led Zeppelin was inducted into the Rock and Rock Hall of Fame.

In 2005, Page received an important honor for his charitable work. Queen Elizabeth II made him an Officer of the Order of the British Empire for helping to found Action for Brazil's Children Trust. The charity, established by Page and his second wife Jimena, also operates a shelter for street children called Casa Jimmy. The trust also supports local Brazilian organizations that provide education and other assistance to kids in need.

Returning to music, Page helped revive Led Zeppelin in 2007 for a special benefit show for the Ahmet Ertegun Education Fund, named for the late co-founder of Atlantic Records. Tickets sold out quickly for the first appearance of Led Zeppelin in 19 years (with Jason Bonham again filling in for his late father on drums). The concert was held on December 10 at London's O2 Arena, and it proved to be a triumphant return for the famous 70s supergroup. Critics raved about their show, which lasted more than two hours. Rolling Stone had high praise for Page, writing he "was a continual shock on guitar, mostly because he has played so little in public for the past decade. At sixty-three, Page is undiminished in his sorcerer's mix of reckless ferocity—stammering runs, strangled howls, granite-block chords—and guitar-army wow."
---
Guitarist #3 . . .
March 2015
Two fingers can be enough: –
Django Reinhardt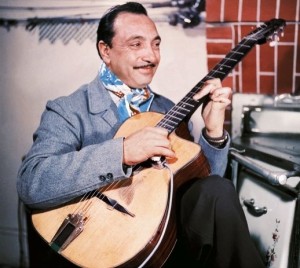 Synopsis

–
Django Reinhardt was, to many, the greatest guitarist who ever lived, an important influence on Les Paul, Charlie Christian, B.B. King, Jerry Garcia, Chet Atkins, and many others. Handsome, charismatic, childlike, and unpredictable, Reinhardt was a character out of a picaresque novel. Born in a gypsy caravan at a crossroads in Belgium, he was almost killed in a freak fire that burned half of his body and left his left hand twisted into a claw. But with this maimed left hand flying over the frets and his right hand plucking at dizzying speed, Django became Europe's most famous jazz musician, commanding exorbitant fees—and spending the money as fast as he made it.

Biography –

Early Life
Born on January 23, 1910, in Liberchies, Belgium, Django Reinhardt became famous for his unique musical sound, which blended elements of American jazz with traditional European and Roma music. Reinhardt's father was a musician and entertainer and his mother was a dancer, according to some reports; they were Manouches, or French gypsies, and they eventually settled in a camp near Paris. Raised without any formal schooling, Reinhardt was practically illiterate.

In his youth, Reinhardt learned to play an interesting instrument—a hybrid of a guitar and a banjo. He was largely self-taught, never learning how to write or read music. Later on, Reinhardt had to depend on others to transcribe his compositions. He was already playing in clubs in Paris by his early teens. Reinhardt started out playing popular French music, but he became interested in American jazz in the mid-1920s. He especially liked the works of Duke Ellington, Louis Armstrong and Joe Venuti. His promising career, however, was almost ended by a terrible accident in 1928.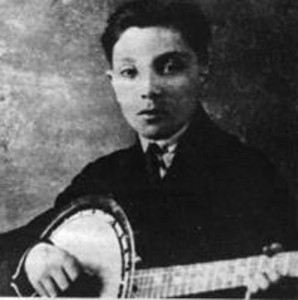 Tragic Fire
In 1928, Reinhardt was injured in a fire in his caravan. A lit candle fell into some paper, or celluloid, flowers that his wife had made to sell, and the flames quickly spread throughout their home. Both Reinhardt and his wife made it out of the fire, but Reinhardt suffered bad burns to his right leg and left hand. Perhaps worst of all for this talented musician, he permanently lost the use of two fingers on his damaged hand. He would spend the next 18 months to two years recuperating.

During this time, Reinhardt taught himself how to play music again. It was a slow, painful process, but he devised an innovative style of guitar playing. With his two fingers and thumb, Reinhardt handled his instrument with remarkable speed and agility. He was back to dazzling audiences in the Paris nightclubs by 1930.

Famous Quintet
By the mid-1930s, Reinhardt had joined forces with violinist Stephane Grappelli to form the Quintet of the Hot Club of France (Quintette du Hot Club de France). Their group, which grew to include Reinhardt's brother Joseph and others, became the first major European jazz band. Some of the band's early recordings included covers of American songs like "Dinah" and "Lady Be Good," and these tracks helped win them a following on both sides of the Atlantic.

Reinhardt also produced original music, which fused his musical heritage with the latest jazz and swing sounds. Some of his most famous works with the quintet are "Djangology," "Bricktop" and "Swing 39." His style from this period has been called "gypsy swing" and "le jazz hot."
Quintette de Hot Club de France
World War II
According to some reports, Reinhardt was in England touring with Grappelli in 1939 when World War II began in Europe. He decided to return to France, but his cohort remained abroad. The following year, the Nazis took control of France, a move that put Reinhardt in jeopardy. The Roma, or gypsies, were among those considered undesirable by the Nazis, and thousands and thousands of them perished in concentration camps during the war.
Remarkably, Reinhardt was allowed to play freely in the clubs of Paris during much of the war. It seemed that the Nazis viewed this famed city as their playground to some degree, and their military personnel enjoyed frequenting its nightclubs. Reinhardt expressed his melancholy over the occupation in one of his most famous compositions: "Nuages," which means "clouds." According to Contemporary Musicians, the musician made two attempts to flee France for Switzerland, but both of these efforts proved to be unsuccessful.
Final Years
After the war, Reinhardt became interested in electric guitar and experimenting with other styles of jazz. He toured the United States with Duke Ellington in 1946, but he failed to win over American audiences and critics. Reinhardt also started recording with a new version of his beloved quintet, but rarely gave public performances. Instead, he spent much of his time in the South of France.
In 1953, the famed improviser jammed with another jazz legend, Dizzie Gillespie and made some of his final recordings. The music world lost a great talent that May. Reinhardt died from a massive stroke on May 16, 1953, in Fontainebleau, France. He is regarded among the most prominent European performers to have heavily influenced American jazz. Additionally, his work has had a lasting impact on other guitarists in different musical styles, influencing such diverse artists as B.B. King and Carlos Santana.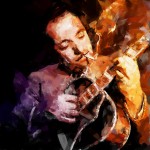 Click on image for YouTube audio/still image video

References
Django Reinhardt. (2015). The Biography.com website. Retrieved from http://www.biography.com/people/django-reinhardt-9454889
Video.
https://www.youtube.com/
Illustrations.
http://www.thebluegrassspecial.com/archive/2010/march10/django-reinhardt-michael-dregni.php
http://www.jazzguitar.be/django_reinhardt.html
http://www.musicradar.com/news/guitars/heroes-peter-frampton-on-django-reinhardt-590185/
http://www.crommelin.org/history/Biographies/1914Edward/Jazz/JazzInHolland.htm
---
Guitarist #2 is . . .
February 2015
He who changed all the rules: –
Jimi Hendrix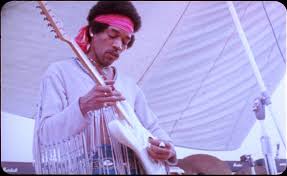 Synopsis

–
Johnny Allen Hendrix, (born on November 27, 1942, in Seattle, Washington), learned to play guitar as a teenager, and grew up to become a rock guitar legend who excited audiences in the 1960s with his innovative electric guitar playing. One of his most memorable performances was at Woodstock in 1969, where he performed "The Star Spangled Banner." Hendrix died in 1970 from drug-related complications, leaving his mark on the world of rock music and remaining popular to this day.
Biography –
Early Life
Guitarist, singer and songwriter Jimmy Hendrix was born Johnny Allen Hendrix (later changed to James Marshall) on November 27, 1942, in Seattle, Washington. Learning to play guitar as a teenager, Hendrix grew up to become a rock guitar legend. He had a difficult childhood, sometimes living in the care of relatives and even acquaintances at times.
His mother, Lucille, was only 17 years old when Hendrix was born. She had a stormy relationship with his father, Al, and eventually left the family after the couple had two more children together, sons Leon and Joseph. Hendrix would only see his mother sporadically before her death in 1958.
Musical Aspirations
In many ways, music became a sanctuary for Hendrix. He was a fan of blues music and taught himself to play guitar. At the age of 14, Hendrix saw Elvis Presley perform. He got his first electric guitar the following year and eventually played with two bands—the Rocking Kings and the Tomcats. In 1959, Hendrix dropped out of high school. He worked odd jobs while continuing to follow his musical aspirations.
| | | |
| --- | --- | --- |
| | | |
| The Rocking Kings | Thomas and the Tomcats | The King Casuals |
Hendrix enlisted in the United States Army in 1961 and trained at Fort Ord in California to become a paratrooper. Even as a soldier, he found time for music, creating a band named The King Casuals. Hendrix served in the army until 1962 when he was discharged due to an injury.
After leaving the military, Hendrix pursued his music, working as a session musician and playing backup for such performers as Little Richard, Sam Cooke and the Isley Brothers. He also formed a group of his own called Jimmy James and the Blue Flames, which played gigs around New York City's Greenwich Village neighbourhood.
| | | |
| --- | --- | --- |
| | | |
| King Curtis & The Squires | The Isley Brothers | Jimmy James & The Blue Flames |
Career Breakthrough
In mid-1966, Hendrix met Chas Chandler—a former member of the Animals, a successful rock group—who became his manager. Chandler convinced Hendrix to go to London where he joined forces with musicians Noel Redding and Mitch Mitchell to create The Jimi Hendrix Experience. While there, Hendrix built up quite a following among England's rock royalty.
| | |
| --- | --- |
| | |
| Jimi with Chas Chandler | The Jimi Hendrix Experience |
Members of the Beatles, the Rolling Stones, the Who and Eric Clapton were all great admirers of Hendrix's work. One critic for the British music magazine Melody Maker said that he "had great stage presence" and looked at times as if he was playing "with no hands at all."
Released in 1967, the band's first single, "Hey Joe" was an instant smash in Britain, and was soon followed by other hits such as "Purple Haze" and "The Wind Cried Mary." On tour to support his first album, Are You Experienced? (1967), Hendrix delighted audiences with his outrageous guitar-playing skills and his innovative, experimental sound. He won over American music fans with his stunning performance at the Monterey Pop Festival in June 1967, which ended with Hendrix lighting his guitar on fire.
Rock Superstar
Quickly becoming a rock music superstar, Hendrix scored again with his second album, Axis: Bold as Love (1968). His final album as part of the Jimi Hendrix Experience, Electric Ladyland (1968), was released and featured the hit "All Along the Watchtower," which was written by Bob Dylan. The band continued to tour until it split up in 1969.
That same year, Hendrix performed at another legendary musical event: the Woodstock Festival. His rock rendition of "The Star-Spangled Banner" amazed the crowds and demonstrated his considerable talents as a musician. He was also an accomplished songwriter and musical experimenter. Hendrix even had his own recording studio in which he could work with different performers and try out new songs and sounds.
Hendrix tried his luck with another group, forming Band of Gypsys in late 1969 with his army buddy Billy Cox and drummer Buddy Miles. The band never really took off, and Hendrix began working on a new album tentatively named First Rays of the New Rising Sun, with Cox and Mitch Mitchell from the Jimi Hendrix Experience. Unfortunately Hendrix did not live to complete the project.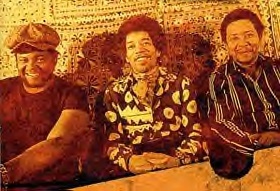 Band Of Gypsys
Tragic Death
Hendrix died on September 18, 1970, from drug-related complications. While this talented recording artist was only 27 years old at the time of his passing, Hendrix left his mark on the world of rock music and remains popular to this day. As one journalist wrote in the Berkeley Tribe, "Jimi Hendrix could get more out of an electric guitar than anyone else. He was the ultimate guitar player."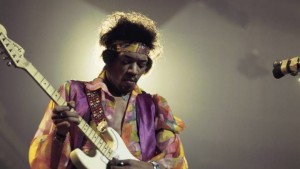 References
http://www.biography.com/
http://gerardegan.blogspot.co.nz/
http://hendrix.guide.pagesperso-orange.fr/
http://basementrug.com/
http://www.gettyimages.co.uk/
http://www.rollingstone.com/
---
Guitarist #1
January 2015
The Father of the Electric Guitar: –
Les Paul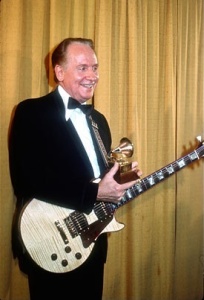 Synopsis

–
Lester William Polsfuss (June 9, 1915 – August 12, 2009), known as Les Paul, was an American jazz, country and blues guitarist, songwriter, luthier and inventor. He was one of the pioneers of the solid-body electric guitar, which made the sound of rock and roll possible. He is credited with many recording innovations. Although he was not the first to use the technique, his early experiments with overdubbing (also known as sound on sound), delay effects such as tape delay, phasing effects and multitrack recording were among the first to attract widespread attention.
His innovative talents extended into his playing style, including licks, trills, chording sequences, fretting, techniques and timing, which set him apart from his contemporaries and inspired many guitarists of the present day. He recorded with his wife Mary Ford in the 1950s, and they sold millions of records.
Among his many honours, Paul is one of a handful of artists with a permanent, stand-alone exhibit in the Rock and Roll Hall of Fame. Les Paul is the only person to be included in both the Rock and Roll Hall of Fame and the National Inventors Hall of Fame.
Biography –
Early Years
Les Paul was born Lester William Polsfuss on June 19, 1915 in Waukesha, Wisconsin.
By at least one account, Paul's early musical ability wasn't superb. "Your boy, Lester, will never learn music," one teacher wrote his mother. But nobody could dissuade him from trying, and as a young boy he taught himself the harmonica, guitar and banjo.
By his teen years, Paul was playing in country bands around the Midwest. He also played live on Chicago radio stations, calling himself the Wizard of Waukesha.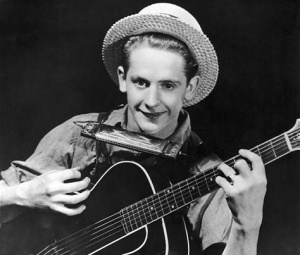 Coupled with Paul's interest in playing instruments was a love for modifying them. At the age of nine he built his first crystal radio. At 10 he built a harmonica holder out of a coat hanger, and then later constructed his own amplified guitar.
Not content to strictly be a country musician, Paul developed an interest in jazz music and by the mid 1930s had moved to New York and formed the Les Paul Trio. By the 1940s Paul had established himself in the jazz world, recording with such stars as Nat King Cole, Rudy Vallee and Kate Smith.
The New Electric Guitar
In 1941 the perfectionist in Paul believed he could improve upon the common amplified guitar. To do so he attached strings and two pickups to what was essentially a wooden board with a guitar neck. Paul called it the "the log," and while it drew some early criticism, mainly for its look, it produced just the kind of sound its creator had been looking for.
"You could go out and eat and come back and the note would still be playing," he later described it.
It was the first solid-body guitar, and it changed music in unbelievable ways. In the 1960s, the rock world embraced and adored his instrument. By then, Paul had teamed up with the guitar manufacturer Gibson, which had hired him to design a Les Paul guitar. Musicians such as Keith Richards, Eric Clapton and Paul McCartney all used the guitar. Since its debut in 1952 the Gibson Les Paul was been one of the steadiest-selling guitars made.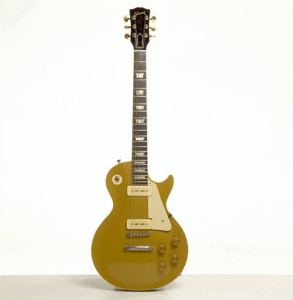 Paul's commitment to his music was such that in 1948 a car accident left him with a shattered right elbow. Faced with doctors setting the arm in a position that wouldn't again be movable, Paul, ever mindful of his career, asked that it be set at a slight angle so he could still play guitar.
Revolutionary Recording Artist
Paul's influence on the music world extended far beyond the guitar. With the encouragement of Bing Crosby, whom Paul had toured with, Paul built a recording studio in his garage in his Los Angeles home in 1945.
There, Paul experimented with a number of different recording techniques. His breakthrough came in 1948 with a recording of the song "Lover," which utilized a variety of tracks. It wasn't long before Paul was creating 24-track recordings and producing hits like "How High the Moon" and "The World Is Waiting for Sunrise."
Star Status
After divorcing his first wife, Virginia Webb, Paul met the former Colleen Summers, a singer who'd toured with Gene Autry's band. Paul changed her name to Mary Ford and began recording with her. They married in 1949, and for much of the 1950s the two had their own television show, "Les Paul and Mary Ford at Home."
In addition the couple had more than three dozen hits together, all of them utilizing the recording techniques Paul had created in his studio.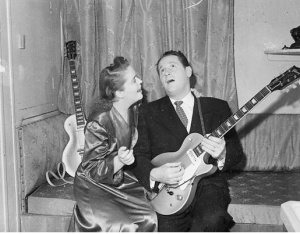 In his later years, Paul's standing and legend in the music industry only increased. His final recorded album, "American Made, World Played," debuted in 2005 and featured, among others, Keith Richards, Jeff Beck, Sting and Eric Clapton. The record also netted Paul two Grammy Awards.
According to Rolling Stone magazine, Paul died from complications associated with pneumonia on August 12, 2009. Other sources have listed August 13 as the date of his death, but his memorial in Waukesha, Wisconsin, lists August 12 as the official date. Paul was laid to rest in the Prairie Home Cemetery alongside his mother.
References
Les Paul. (2014). The Biography.com website. Retrieved 12:11, Dec 24, 2014, from http://www.biography.com/people/les-paul-9435046.
Time Magazine (2014). Retrieved 13:02, Dec 24, 2014, from http://content.time.com/time/photogallery/0,29307,1916359,00.html
Wikipedia (2014). Retrieved 13:34, Dec 31, 2014, from http://en.wikipedia.org/wiki/Les_Paul
Top of Page