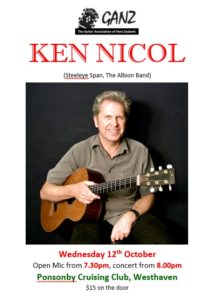 It is a privilege to welcome Ken Nicol back to GANZ. If you missed him previously, get this marked in your diary immediately!
Ken is a virtuoso guitarist who has played with some of the best in the Folk and Folk/Rock genres. Furthermore he is a talented songwriter and an entertainer of the highest calibre.
Open mic opportunity to start the evening for anyone seeking a stage for their guitar-playing talent.